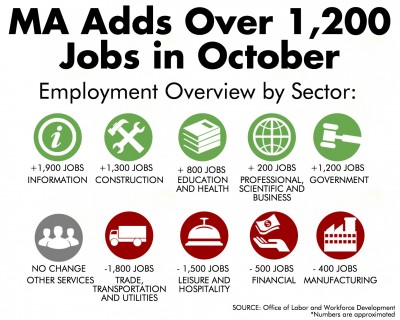 Although the Massachusetts unemployment rate remained unchanged at 6 percent in October, the Commonwealth saw an increase of 1,200 jobs throughout the month, according to a Thursday bi-monthly report released by the Massachusetts Executive Office of Labor and Workforce Development.
"The Bureau of Labor statistics does two surveys each month to measure…the number of people working in which a representative number of households are surveyed and… the number of jobs added or lost in which a representative number of employers are surveyed," said Ann Dufresne, communications director at the EOLWD, in an email. "The unemployment rate has nothing to do with the job count."
The labor force is defined as the employed and the unemployed who are actively searching for employment, which can be confusing when calculating how many Massachusetts residents are actually employed, Dufresne said. The unemployment rate is not directly correlated with the number of jobs available, she added, because even with job growth, unemployment rates could increase due to more unemployed residents searching for jobs and thus joining the labor force.
"You can have lots of jobs added, and the unemployment rate could still go up," she said. "That's because the unemployed rate measures the number of residents working against the number in the labor force. In October, the labor force grew larger because more people who had stopped looking for work, and therefore weren't counted in the labor force, began looking again."
While three employment sectors added jobs in October, five sectors lost jobs, according to the release. The greatest job gain was seen in the information sector, with a 2 percent increase.
Dufresne said she was not surprised by October's job growth in the Commonwealth.
"The monthly jobs report can ebb and flow," she said. "We prefer to look at the annual job figures, and we know the unemployment rate in [Massachusetts] has dropped 1.2 percent over last October. We also have added over 55,000 jobs in a year, so it has been slow and steady economic growth."
John Sullivan, associate chair of administrative sciences at Boston University's Metropolitan College, said job creation has a significant influence on unemployment rates.
"What really matters is what kind of jobs are being generated, and are those jobs that create wealth or don't create wealth?" he said. "The other thing is what sectors are they creating jobs? Is that a growth market or a stable market? Those are the two concerns that I would have."
Sullivan said Massachusetts residents should look to industries where jobs are increasing to find the most job options.
"What industries are we losing and what industries are we gaining?" he said. "If you look at Boston, we are a finance, healthcare and academic industry, so where are the jobs being created there, and are they support jobs or are they jobs that can actually contribute back to the economy?"
Jay Atkinson, a professor in the College of Communication, said he is doubtful of economic recovery, despite the job additions.
"Either the economy will improve and there will be more full-time jobs, or people will do what they have to do to organize themselves to demand full-time jobs, to create positions that actually come with enough income to survive," he said. "So the whole idea of the economic recovery is false. Just look at how many people are just barely scraping by."
Several students said they hope economic recovery will improve the job market and continue to allow for job growth.
"A 6 percent unemployment rate is proof that an economy is in its expanding stages, so that's good," said Yousef Sahli, a sophomore in the College of Arts and Sciences. "But 1,200 jobs are being added, and the unemployment rate staying the same raises the question of why are people being unemployed?"
Erika Banoun, a freshman in COM, said she is concerned about finding a job after graduation.
"It's really scary as a college student. I definitely want to get a job," she said. "If more people are in the job force, there's less chance to get a job. Something needs to be done to fix this problem."