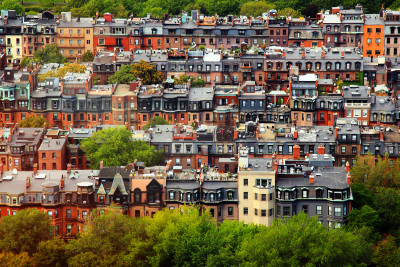 As part of a partnership with the Rockefeller Foundation's 100 Resilient Cities initiative, Boston Mayor Martin Walsh announced Thursday that the Transatlantic Policy Lab will come to the city to create a social equity lab focusing on reducing income inequality and increasing opportunity.
Walsh emphasized the importance of opportunities and described how new practices will be implemented to make Boston a stronger city.
"Every resident of Boston should have access to the wealth of opportunities in this city every day so we can remain competitive and be able to thrive in the face of an emergency," Walsh said in a Thursday release. "This study will provide vital assessments of our equity gaps to help reduce the impact of potential threats on our communities."
Boston and Athens, Greece, are the only two cities to serve as sites for the policy lab partnership with 100 Resilient Cities, according to the release. The lab will host 16 different experts from the European Union and the United States.
Atyia Martin, chief resilience officer for the City of Boston, said the lab will help the City to close opportunity gaps.
"They will help look at the specific equity challenges that we face so we'll know more about what to prioritize," Martin said. "They'll help us do the research, to dig deeper into those issue areas to understand the best approach. They're contributing to the resilience strategy by going through this."
Martin detailed how the TAPL will engage with local communities to make their recommendations more specialized.
"What's great is that they also want to partner with local institutions to provide some context," Martin said. "[They will go] somewhere in the communities so that they can engage with different organizations associated with our equity challenges so that they can have that local context so that when they make policy recommendations, they can do so in a way that is helpful to them."
Assessing resilience will help Boston meet Walsh's goal for a "socially and economically healthy city, from the bottom up," Martin said in the release.
Liz Yee, vice president of strategic partnerships and solutions for 100 Resilient Cities, expressed excitement for the program.
"We're proud to provide best-in-class tools and services to foster resilience building efforts at no direct cost to our member cities, and excited to leverage the solutions and learnings from this engagement to identify where these approaches can be scaled to address similar challenges in other cities, and encourage the market to develop solutions where there are existing gaps," Yee said in the release.
Several residents praised the City's efforts to address social inequality.
Katherine Michaels, 27, of Brighton, commented on how socioeconomic equality can completely change someone's life.
"There are a lot of hard-working, deserving people who don't have the opportunities the rest of us have," she said. "Just because someone is born with less money doesn't mean that they shouldn't have the opportunity to a great education and a great life."
Rebecca Brezel, 33, of Brighton, added that Boston officials seem to be working really hard to address the issues of opportunity in Boston.
"The mayor is doing a really good job so far," she said. "He's really been working to address a lot of the social and economic issues that come with any big city and I've been really impressed by his efforts."
Kara Trent, 32, of Fenway, expressed relief for the work Walsh is doing.
"Social and economic inequality is something that is really difficult to fix," she said. "If the City is working to at least improve the situation then that's good though, because I'm sure any efforts can help and this is something that I'm sure will affect plenty of people."