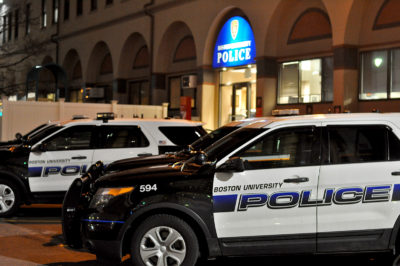 Robert Molloy, a veteran officer at the Boston University Police Department, has been promoted to deputy chief of police after 33 years in the BUPD, serving in positions ranging from patrol officer to captain.
"I'm very, very happy [about the promotion]," said Molloy, a 1991 graduate of BU's Metropolitan College. "It's very important to me that the place that … has been such a big part of my life is giving me the support and acknowledgment … and that they have enough faith in me that I will do a good job as deputy chief."
Molloy said he is looking forward to creating stronger connections between the campus community and the police department.
"I'm looking forward to … looking at other ways that the police department can service the BU community," Molloy said. "How we help them in preventing crimes, how we help them preventing scams, how we provide the various things we can provide in terms of bicycle safety, protecting yourself, protecting your property and also meeting with the community more often."
Molloy also said one of his major goals as deputy chief is to help BU's international student population become more aware of their personal safety on campus.
"Sometimes, an international student [can] misunderstand the situation, and that makes them a little bit vulnerable," Molloy said. "They may be unfamiliar with some of the laws within Massachusetts. They will be unfamiliar with some of the cultures. I think it's the police department's role to connect with them to meet with them to discuss issues."
Several of Molloy's colleagues said they are excited about Molloy's new role in the department.
"He's always open if we have suggestions about approving things or doing things," said Peter Shin, a BUPD police officer. "He loves this job. I think he brings that every day when he comes to work. His main goal is to ensure the safety of the university and of everybody who is here."
BUPD's Police Chief Kelly Nee, who assumed her position in May, said she appointed Molloy to deputy chief because she wanted to acknowledge his talent and professionalism.
"There's a lot of talent within this police department, as small as it is," Nee said. "Incredibly professional, very, very well-trained. I really want to send a clear message to the men and women of the police department that I value them."
Nee said Molloy's institutional knowledge, enthusiasm for BUPD and his eagerness to offer his opinions are some of the reasons she appointed him deputy police chief.
"He is the highest ranking person here and [also has] the longest tenure," Nee said. "He is a huge proponent of community policing. His priority is 1000 percent the benefit of the students, faculties and staff of the university."
Peter Fiedler, BUPD's vice president of administrative services, said he has known Molloy for several years and is very confident in his ability to lead the department, in part because Molloy is constantly further educating himself in the field.
"I've known Bob for probably 23 or 24 years," Fiedler said. "I have nothing but the highest praise for Deputy Molloy. Bob really studies policing. He is always eager to learn the latest in terms of training and tactics; he likes to read a lot and study films, immerse himself in information about policing. He can bring that to Boston University campus, which he does."
Fiedler also described the degree of respect the BU community has for Molloy.
"The other police officers have great respect for Bob," Fiedler said. "The community respects him. He has probably worked with most everybody at Boston University in the administration at one time or another. Everybody has been very excited and very positive about his promotion."
BU spokesperson Colin Riley said Molloy's many years of experience and prior involvement with other police departments make him a great fit for the role.
"He is very skilled at police work and he's very knowledgeable," Riley said. He has great relationships with other area law enforcement agencies. Mostly, it's a continuance of the excellence he's shown in his role as captain here in BUPD."
Several BU students said they appreciate the BUPD's efforts to maintain students' safety on campus.
Isabella Reynolds, a College of Arts and Sciences freshman, said her first encounter with BUPD was hearing several officers speak at orientation.
"They seemed super friendly," Reynolds said. "I was like, 'I just want to go and hang out with the BUPD, I don't know, have Dunkin' Donuts with them.'"
Reynolds also commended BUPD's efforts in regards to campus safety.
"I feel safe walking home at night," Reynolds said. "I haven't been harassed by anybody or needed to call the police, which is a good thing. Keep up the good work."
Sofia Chavez, a College of General Studies sophomore, said she thinks the department particularly excels at keeping students informed on campus.
"There is not really a big presence of BUPD on campus," Chavez said. "They do a really good job in keeping us in the know about stuff that's going on on campus, like if there's a robbery or something."
Xander Keiter, a CAS freshman, also said he recalled the BUPD's friendly greeting to students during orientation.
"I heard about what they used to call the 'escort thing' when [BUPD] have somebody walk you home," Keiter said. "That seems like a really good program."