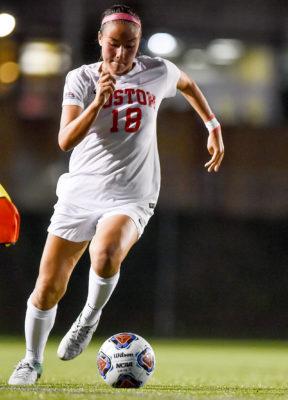 The Boston University women's soccer team bagged its eighth shutout of the season with a 3-0 win over Loyola University Maryland on Saturday afternoon.
As the pouring rain came down on the turf, the Terriers (7-6-3, 4-3-1 Patriot League) pounded away at the Greyhounds (3-10-1, 0-5-1 Patriot League) to produce three unanswered goals.
This is the second shutout in a row for the Terriers, and their seventh in the past eight games.
With assistance from senior forward Christina Wakefield, freshman midfielder Anna Heilferty slammed the ball past goalkeeper Sumer Rahe for her fifth goal of the season. She's now tied for the most goals this season for the Terriers.
After the goal from Heilferty, the Terriers' defense went to work on defending the lead, blocking a corner kick from Nicole Rivas — one of two back-to-back corners for her.
Loyola's midfielder Hannah Hoefs made a threatening kick late in the first half to put BU's lead in jeopardy, but could not connect with the back of the net.
Despite the weather and the Greyhounds' defense, Loyola could not hold junior forward McKenna Doyle back from sneaking two goals of her own in during the second half of the game. This game tripled Doyle's goal total for the year, putting her at three goals.
"That was nice seeing McKenna get a couple," BU head coach Nancy Feldman said. "Sometimes the breakthrough goals are the ones that are kind of scrappy. She's scrapping in the box, she's done that before, and sometimes, scrapping in the box, balls bounce your way, but you always have to be ready to pounce, and she was ready to pounce today."
Feldman also stated that the goals could help Doyle's play going forward in the season.
"I think she's been putting a little pressure on herself," she said. "I think this is maybe going to ease up on her stress. You have to kind of get in that happy place, and hopefully this helps her get in that happy place in regards to goal scoring."
The Terriers had to play without senior defenseman Alivya Wimmer this game, but freshman midfielder McKenna Kennedy was able to step up and make up for the veteran's absence in the game. She added defensive depth and sent a header toward Rahe which went wide of the net.
BU outshot the Greyhounds by 14 goals, which gave them more opportunities to get the ball on the net and score.
Pulling ahead of Loyola early on was an emphasis in practice this week, Feldman said.
"When we create chances at the level we've been creating chances, we need to pull away from teams and not allow them to stick around if they shouldn't stick around," she said. "If we've created those chances we need to finish them so that … we play in a more comfortable place where one little fall down in a defensive moment doesn't create a goal when we've done everything else right."