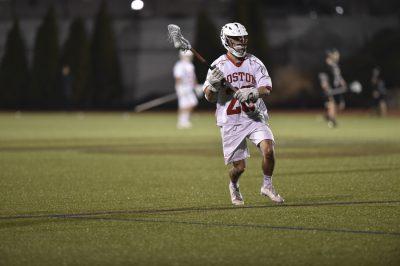 After a week and a half off, the Boston University men's lacrosse team will look to rebound against Dartmouth College Tuesday evening.
The Terriers (1-1) are ready to leave their 15-9 loss to then-No. 7 Ohio State University behind them.
"I think our preparation has been good," BU head coach Ryan Polley said. "Guys were disappointed after the Ohio State loss and got refocused, and we've had a good week of practice."
To Polley, his team's defense and ground ball work need the most improvement.
The Terriers have given up 26 goals through their first two games of the season, a mark that Polley said is "unacceptable."
BU has been out battled on the ground ball front 75-61, and has a 23-30 deficit at the faceoff X.
Midfielders and faceoff specialists senior Joe Stucky and freshman Sean Christman have combined for a 23-53 mark (.434 percent) at the faceoff dot.
"We've got to certainly play better defense as a whole," Polley said. "If we can clean up our faceoffs and our ground ball work, we won't have as many defensive possessions. We're hoping that over every facet of the game, we can improve. Get better at faceoffs, better at ground balls, better at clearing, certainly a little more offensive efficiency to take a little bit of pressure of our defense."
Despite the team's slower start, Polley is pleased with the performance of some of his more experienced leaders, namely starting attacks junior James Burr and senior Jack Wilson.
The duo has accounted for 12 of the Terriers' 35 points so far this season, and Burr leads his team in goals with five and is tied for points with seven alongside freshman attack Chris Gray.
Polley also noted the play of senior defender and long-stick midfielder Isaac Lipton, who he said "has been doing a really nice job in his role as defensive end."
"Overall, if we're going to be the team that we hope to be, everybody's got to step up a little bit," Polley said.
With Dartmouth (1-0) coming to town, BU has quite the handful ahead.
The Big Green are coming off a last-second 13-12 victory over Canisius College on Saturday afternoon.
Dartmouth senior midfielder Jack Korzelius completed his hat-trick after finding the back of the net with one second remaining in regulation.
Over the contest, nine different players including Korzelius tallied goals, and the Big Green led in shots 41-26.
Freshman attack George Prince currently leads the team in points after notching one goal and three assists over the weekend, while Korzelius trails behind with three points.
"I think their strength is certainly their youth and enthusiasm, and the energy they play with," Polley said. "I think they're going to come in with a lot of confidence, and try to play with a ton of energy. They're going to play really hard, and it's going to be a challenge to our team and to our coaching staff to certainly meet that and play even harder than them."
Following the matchup against Dartmouth, the Terriers will gear up for their first Patriot League contest of the season, a Saturday afternoon meeting with the United States Naval Academy.
The Midshipmen (1-2) are also off to a slow start, after falling to Jacksonville University 12-7 and the University of Maryland, College Park 10-4. Although, Navy bounced back for a 7-5 win over the University of Maryland, Baltimore County.
Midfielder Greyson Torain and freshman attack Christian Daniel currently lead the Midshipmen in points with six apiece.
However, Polley said his squad is taking it one game at a time.
"Right now we're just focused on Dartmouth," Polley said. "We haven't even really started thinking about Navy yet. We'll turn our attention to Navy after the Dartmouth game."
In the words of New England Patriots head coach Bill Belichick, it's on to Dartmouth. Or more precisely, to Nickerson Field.