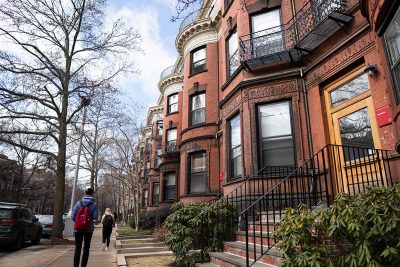 Boston University is set to raise next year's housing and dining rates — again.
According to BU Housing, if the proposed rates are approved, a typical double, triple or quad room will cost students $10,680 for the 2019-20 school year, up from $10,390 this year. A spot in an apartment with two or more students will cost $14,070 next year, up from $13,660 this year.
Single rooms without a private bathroom will go from $13,480 to $13,870, and singles in a four-person Student Village suite will increase from $17,250 to $17,770.
The cost of the 14-Plus, 330, 250 and Kosher dining plans will also rise, from $5,330 to $5,480.
Hector Meneses, BU student government's vice president of finance, said that universities continue to get more expensive in order to finance amenities that have become common at higher education institutions.
"There are a number of resources here that BU provides that aren't relatively needed for a person to graduate," Meneses said. "It's already assumed it's a part of the package, and that's why tuition and the cost of universities in general is increasing, from my understanding."
Meneses said that BU's recent residential developments, such as StuVi II, completed in 2009, and Myles Standish Hall, renovated in 2018, are inaccessible to some students because they are too expensive.
"I come from a very poor background," he said, "and I can tell you for a fact that I've never even dared considered Myles, let alone StuVi I or StuVi II, just because of how expensive it is and how much of a burden that would be on my family."
BU has been steadily increasing its housing rates for years. In 2014, BU raised housing prices by $561. The following year, in 2015, standard rates increased again by $490.  
Yet housing and dining rate increases are not unique to BU. According to a 2018 report by the MIT Division of Student Life, undergraduate two-bedroom housing rates at Yale, Princeton, Stanford, Harvard, MIT and BU have all increased since the 2014-15 academic year.
BU spokesperson Colin Riley wrote in an email that the university's housing price increases can be attributed to increases in local Boston housing prices.
"The rates are competitive with the Boston market," Riley wrote. "Modest annual increases prevent steep increases if they were not yearly."
James Feigenbaum, an assistant professor of economics at BU, wrote in an email that housing in all parts of Boston, including universities, will continue to be expensive until more housing is built.
"A key goal should be more housing supply," Feigenbaum wrote. "We need more housing and more density, whether built by BU or the public sector or the private sector."
Mackenzie Knox, a junior in the College of Arts and Sciences, said she wasn't surprised about the housing price increases considering BU has continued to raise its tuition.
"I think that BU has plenty of money and that we don't do enough in financial aid to justify such increases every year," Knox said.
Knox added that she thinks smaller incremental increases applied each year are easier on students than large increases every few years because they're "smaller and more expected."
Ethan Le, a College of General Studies freshman, said that no matter what, an increase in housing prices is never great for students.
"Obviously, it's not a great thing for students, a lot of students are short on money and constrained financially," Le said, "so I think having that increase in housing is not going to benefit a lot of the students here."
Alekha Kolli, also a CAS junior, said he was disappointed that housing prices were increasing again.
"I feel like we give BU a lot of money, and tuition is always increasing," he said. "I feel kind of resigned about it because it's been happening every year."
Despite the on-campus price increases, Kolli said he wouldn't consider moving off campus.
"At this point I only have one more year left," Kolli said. "It feels like if I do go off campus, I do have to spend a lot of money for furniture and all that, and that might be a good investment if I were a sophomore, but I don't think it's a good investment right now."