A line of musicians runs the street from Boston Common to the Public Garden, featuring everything from a Hurdy Gurdy to a one-man band.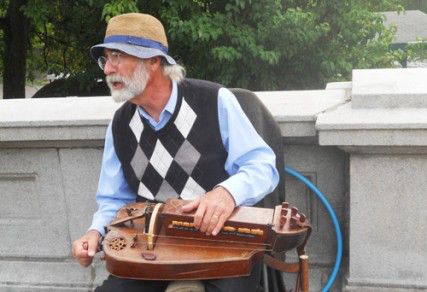 Although the performances have led to the occasional noise complaint, many onlookers said they see the musicians as a part of the park experience.
"[My wife and I] came [to Boston] to visit our sons, and we didn't leave," said Donald Heller, the "Hurdy Gurdy Man." "That was almost three years ago. I always play wherever I go."
Heller is a street performer in the Boston Garden who said he plays almost every day, accompanied by his dog Mackie.
He plays a Hurdy Gurdy, a stringed musical instrument in the shape of a violin, made by Stan Montagnon.
Heller said it is not hard to play and is played almost everywhere throughout Europe.
"This is a French one in the style of 17th century that was built for me 31 years ago," he said of the one he plays.
As Heller began to play his Hurdy Gurdy, he attracted a crowd.
"He's great," said Adam Smith, a graduate student from Vermont College of Fine Arts who said he sees Heller often on his days off.
While the music is nice and may lift the spirit of some passers-by, other pedestrians said they find street performers in the park to be a bother.
Boston Park Ranger Marrero said people complain once in a while if the musicians are too loud.
"They're not supposed to have an amplifier," he said.
And while noise can be an issue for pedestrians, the street performers have their own issues. "Sometimes they start fights with one another because they want the position," Marrero said.
This is when park rangers try to diffuse the tension, Marrero said, although rangers are not allowed to kick performers out.
"It's not illegal to have street performers [in The Boston Garden]," Marrero said.
Not all street performers perform in the Boston Garden for a living. Some, such as "the Hurdy Gurdy Man," perform actual gigs.
"If you just play street music, that means you never got to a level where you can present to a lot of people," said Anicet Heller, Donald Heller's wife.
She said "you have to have real gigs" to make a living from performing.
Many people in the park said they appreciate the sounds street performers bring to the park experience.
"I think it [the music] is part of the park experience. It transports you because you don't hear the traffic," said Carol Newton, a nurse at Massachusetts General Hospital.
"It's the full experience. The nature, being outside and the art," said Hailey Rutt, a freshman at the Massachusetts College of Art and Design.
Heller said he makes up his own songs and often improvises from the names and physical characteristics of audience members.
"If you're playing music in a public place, you want to make music for other people to listen," Newton said.
Sarah Hagens, a freshman at Bay State College, said weddings are more of a nuisance than the performers.
"I think you should always follow your dream," she said. "If it's performing, then so be it."