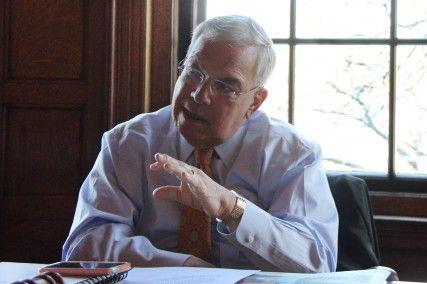 After 20 years spent in City Hall Square, former Boston Mayor Thomas Menino settled into his new quarters Monday at 75 Bay State Road on the Boston University campus.
Menino has transitioned from mayor of a major city to co-director of BU's Initiative on Cities, an extended project that will explore the successes of major cities in order to lend resources and insight to struggling cities across the world.
"So many people here [at BU] have this knowledge of urban issues and what's going on in the world," he said. "… I want to harness that and use it to help other mayors from around this world to run better cities. We all know that cities are going to be the center of all activity. It's not going to be the federal government. Cities are going to drive a lot of the activity in the world today."
Although Menino received offers from numerous other Boston institutions of higher education, including Harvard University, Northeastern University and Suffolk University, Menino said he chose BU for its global presence and diverse intellectual prowess.
"BU has a wealth of talent as well as institutional knowledge," Menino said. "… I talked to some of the folks and got enthused because of their knowledge. They're willing to work together. The question you have in all higher education is working together, bringing all this knowledge in one place and forging a protocol to move forward.
Partnering with Menino on the Initiative on Cities is Graham Wilson, the chair of BU's political science department, who will unite his skills as an academic with the skills Menino gathered as mayor, he said.
"Boston has got a great story to tell," Wilson said. "The work Menino has done with the seaport district, the way that Boston has come out of the recession relatively unscathed is a testament to his leadership and skillset. I hope that I have the experience of working in public policy, working with politicians in the course of my career and being something of a bridge between my academic profession and the people involved in practical government."
Among the projects Menino and Wilson have planned for the upcoming months is a Boston Marathon Conference, which will incorporate police officials, first responders, medics and victims form the 2013 Boston Marathon Bombings to analyze how Boston responded as a city to the attack, Menino said.
"We're going to talk about how we all handled it," he said. "… The issue with the Marathon, how it happened, what happened during the activities — that's the key. Boston responded to the marathon better than I ever would have expected. We're a stronger city today than we were when we went into it."
Wilson said he hopes projects such as these sponsored by the Initiative on Cities will provide BU students with the opportunity to take on work exclusive to BU's expansive resources.
"There are many students who share these [urban] interests, and I think they would welcome the opportunities to be a part of that work that goes into running these events and coming to the discussions," Wilson said. "We want to have student fellowships to encourage students to be interested in a topic that we focus on."
Menino said he will hold open office hours every Thursday from 3:30 to 5 p.m. where any students interested in speaking with him can drop into his office and explore their city-related concerns.
"We're going to welcome all students who are interested in urban studies at 75 Bay State Road," he said. "We're going to open the door to have conversations with them at least one day a week. It might be about the arts, media, government, education … We want students who are really interested in how we do the research on some of these issues and students who want to spend some time doing research on a certain issue."
By becoming integrated into the BU student community, Menino said he hopes to provide his exclusive brand of insight to encourage them to think creatively.
"I want to use the knowledge I have to help other people grow in our world, and that's why I chose education," Menino said. "It goes back to my philosophy about government — it's about helping people, helping young people have a great start in life, finding the right path of what they want to do. Giving them practical, real-life experience is what it's all about, not the textbook."