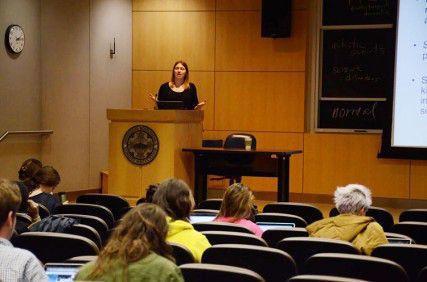 As part of a national movement to end the alleged injustices of adjunct professors, members of the Boston University adjunct faculty are working to unionize.
"The adjunct professors are doing this in order to improve our working conditions and our working conditions translate directly to the learning environment of the students," said member of the organizing committee Maureen Sullivan, an adjunct professor at the College of Arts and Sciences. "That's just really clear to everyone who is doing the organizing. It's not just the Boston area, it's all across the nation. That's the bottom line."
One of the main concerns cited by members of the adjunct faculty was the lack of pay parity between adjunct professors compared to fulltime tenured professors, Sullivan said.
"Boston is a very expensive place to live and adjuncts at BU are paid pennies on the dollar of what tenure-track professors are paid," she said. "That just doesn't translate into a living wage. It's very difficult to actually have even a low standard of living in this area based on the pay we're earning."
A full-time professor at BU earns an average of $157,000 a year, while the average BU adjunct professor earns $3,750 to $9,563 per course, according to the Adjunct Action BU Fact Sheet.
"The idea is to get some better wages with some parity to full-time professors," said Tinker Ready, an adjunct professor in the College of Communication. "Full-time professors have other duties. They have research they have to do, meetings they have to go to. They do have additional duties, but if you look at the numbers, there still isn't very good parity."
Another grievance of adjunct professors is exclusion from faculty decisions and lack of provisions necessary to teach to their full potential, such as proper office spaces.
"Ten adjuncts share this office [COM B40]," said Gary Duehr, an adjunct professor in the College of Communication. "I call it a mini hovel. We have a broken fluorescents light, heating pipes and a PC that's about a thousand years old. I'm not sure if the Dean has any idea that 10 adjunct professors share this office or that it looks like this, but it's basically slave quarters down here."
Low wages and obligations from the other jobs many adjuncts must take on to make a living wage hinder their ability to devote ample time to student attention outside of the classroom, Ready said.
"I try to find ways to squeeze the amount of time I spend on each class," she said. "I would say, depending on these hours, I make between $10 and $20 an hour. … I try to fit it [adjunct teaching work] into 20 hours a week, but sometimes it's hard. Some people think of it as only classroom time, but prep time and grading take up so much time. People say all we do is teach, but the reality is we all work in our fields … that's what we bring to the schools."
The movement for a union at BU is in the beginning stages. Organizers on the BU committee are currently collecting signatures from members of the adjunct faculty in order to gain enough to establish a vote to unionize, said organizer Antonio Ochoa, a CAS adjunct professor.
"Right now, we're hoping to get the resources for organizing," Ochoa said. "The colleagues I have talked to are concerned and they share concerns about their job situation and security. … They want to form a union and be active in something like this."
Support from the adjunct faculty at BU has been positive so far, said Stella Johnson, a member of the organizing committee and COM adjunct professor.
"I have not talked to one adjunct who didn't want to join the union once they were told they have a legal right to collective bargaining," Johnson said. "Once everybody understood that if we all got together, we'd be protected by the union and be able to bargain for a paycheck with parity with the full-time faculty pay, they were on board. … Only one person declined to vote for the union out of hundreds."
The movement at BU is part of a larger project organized by Adjunct Action, a branch of the Service Employees International Union, to form unions for adjunct professors at universities throughout the entire Greater Boston Area, Sullivan said.
"SEIU and Adjunct Action are a campaign to organize all of the Boston area universities in a metro-wide model," Sullivan said. "… Because SEIU has shown to be successful with this metro model in D.C. and other areas, we think Boston is appropriate for this."
The Metro Organizing Strategy involves gathering the adjunct faculty at schools across a select city to ensure equal treatment at each, Ready said.
"SEIU approached some people on the adjunct faculty and asked if they would be interested in establishing a union," Ready said. "They're trying to organize within the city. That way an adjunct won't be treated badly at one school and not at another."
Since the Boston campaign began, Lesley University and Tufts University have all voted to form a union for their adjunct faculty, according to the Adjunct Action website.
"SEIU had a meeting last spring for adjuncts from all universities in the Greater Boston Area and we all realized the same thing," Johnson said. "We are working for extremely low pay, doing the same job as our colleagues, but they're being paid a living wage with benefits. Tufts University and Lesley University have voted for a union and they're negotiating their contracts now. We never dreamed of this at BU a year ago."
The national trend of adjunct unionization has spawned from large spikes in universities' hiring of these faculty members as a means of providing labor at a lesser cost than fulltime faculty, said former BU adjunct professor and current activist for Massachusetts Jobs for Justice Gillian Mason.
"Back in the early part of the 20th century, 25 percent of all college classes were taught by contingent faculty," Mason said. "Right now, 75 percent of classes are taught by contingent faculty. That's a big motivator behind adjuncts demanding better, because more and more of the jobs in the universities are filled by adjuncts."
Although the BU administration has not yet issued an official response, Mason said universities in general respond negatively to union pushes.
"Adjuncts are a source of cheap labor, and a lot of administrators are trying to keep them that way," Mason said. "Once adjuncts start fighting for their rights and start demanding better [treatment], all of a sudden it becomes less economically advantageous for the administration to create all of these low-wage adjunct jobs."
Ready said an adjunct faculty union would ultimately enable adjuncts to provide a higher quality of teaching to their students.
"Students are going to complain about their tuitions maybe going up, but I think they should look into the other ways the university is spending their tuition — administration salaries, fancy buildings," she said. "Is it more important to have a dorm that looks like a four-star hotel or a professor that can pay attention to their work? It's something students might want to think about."