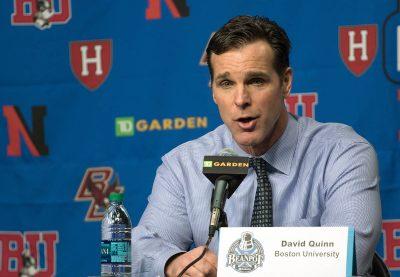 The offseason at Agganis Arena has largely been defined by dreams of what could be, and the hype train received an extra push Tuesday afternoon at TD Garden.
Hockey East announced the No. 4 Boston University men's hockey team earned the top spot in its preseason poll, offering a league-wide recognition of the squad head coach David Quinn has assembled. The Terriers received 10 of 12 first-place votes, marking another hallmark in a week where the Terriers also led the Hockey East Writers and Broadcasters Association preseason poll.
Talk, however, means little to BU, with junior forward and assistant captain Nikolas Olsson stressing hardly any stock is given to outside noise.
"We want to hold ourselves to our own standard, so we don't want to pay attention to what everyone else expects us to do," Olsson said. "We tune everything out and when we're all in the locker room, we have a saying of, 'Close that up and everything that's in here matters – this is what matters, whatever is outside doesn't.' If we can figure out our affairs in here, then we can do great things."
A similar sentiment was expressed by sophomore forward and assistant captain Jakob Forsbacka Karlsson, who said the Terriers aren't letting expectations – internal or external – get to their heads. Such thoughts were surely music to Quinn's ears, who hit home that much can change as the regular season unfolds from October through February.
"Obviously you have to have the polls and we understand the purpose of them, but our guys certainly understand what's in front of us and the challenges we're going to face just like every other team in our league," Quinn said. "We're a very deep league, and we've got an important game coming up next Saturday and we have two opportunities to play games before we play Colgate [University on Oct. 8]."
Even with arguably the most talented roster in college hockey – 11 NHL draft picks call Commonwealth Avenue home – Forsbacka Karlsson returned to the idea that nothing will come easily for BU this season. After all, as he recalled, now-No. 15 Northeastern University started 2015-16 with a 3-12-3 record, only to win the Hockey East Tournament.
Such a trajectory, Forsbacka Karlsson said, shows how unpredictable Hockey East can be, and that's something Olsson echoed, too.
"This conference is one of the most competitive in all of NCAA, if not the most competitive," Olsson said. "No matter what, who leaves, who comes, you're always going to be getting a good, hard game every night. Every game is hard fought and there's no easy points in this league. Every day you have to show up and go to work."
And with 22 Hockey East tilts and 14 non-conference tilts looming, such a mentality will be needed early and often. After all, the preseason poll's top six is rounded out by a "who's who" of college hockey in Northeastern, the University of Notre Dame, the University of Massachusetts Lowell, Providence College and Boston College.
Sure, each team has lost premier talent to graduation or the pro ranks, but that doesn't mean BU's job will be easy by any means.
"Our league loses great players every year and we always bring great players in, and this year is going to be no different," Quinn said. "I know a lot of teams lost a lot of great players, but these coaching staffs do such a good job recruiting year in and year out – they're always bringing good players in."
All things considered, BU is well aware of the various obstacles that will stand in its way, especially with a national and regional target on its back. As Quinn put it, the Terriers are guaranteed to get every team's "A game," home or away.
Their first chance respond to that hype comes on Saturday night in a scrimmage against the University of Prince Edward Island. At that point though, senior captain and defenseman Doyle Somerby said, talk goes out the window.
"It's really nice to have that honor, but at the same time it's something that if you're not working hard throughout the season – you saw Northeastern go on I think a 20 game unbeaten streak," Somerby said. "They took a run with it. It's a long season with a lot of things that can happen in a tough league, so it's nice now, but it doesn't really matter by the end of the year."