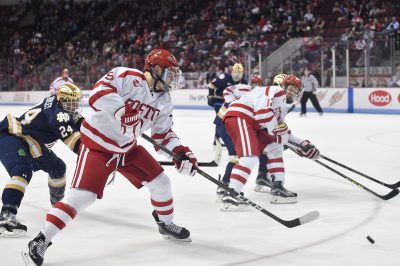 With the makeup of the Boston University men's hockey team, it's hard not to wonder what the future has in store.
The Terriers recruit top-end talents, many of whom are NHL draft picks, and two of 2016-17's stalwarts have already turned pro. Namely, defenseman Charlie McAvoy chose to forgo his junior season and sign with the Boston Bruins, while forward Clayton Keller went one-and-done in signing with the Arizona Coyotes.
Yet, David Quinn remains optimistic about what's in store.
"I think we're in really good shape," the soon-to-be fifth-year head coach said. "We've been to three straight NCAA Tournaments. We've played for a national championship, got knocked in the first round, then lost in overtime. We just have to keep going back to win one. That's how it works. You can't show up once every four years and win a national title. You have to keep going back."
As Quinn explained, the Terriers were inches away from advancing to the Frozen Four, held in Chicago in early April. They, however, met their maker in the NCAA Tournament's quarterfinal round, falling, 3-2, to the University of Minnesota Duluth in overtime.
From that, BU closed the book on a 24-12-3 season that included a share of the Hockey East regular-season title. For a squad riddled with teenagers and featured only three seniors, Quinn was proud of how his "immature" group performed.
"It was a topic for us that we needed to be mature beyond our years," Quinn said. "That's hard to do. I half jokingly said it's hard enough to get a 22-year-old to act like a 22-year-old, let alone an 18 and 19-year-old to act like a 22-year-old. That was our challenge day in and day out, and I thought these kids did a great job of it."
But, the question begs asking: Who returns from this star-studded Terrier team that sent seven skaters to the 2017 World Junior Championships and included 11 NHL Draft picks? It turns out, nearly the whole group.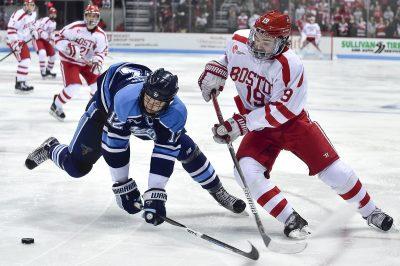 Talking at length on Wednesday in his Agganis Arena office, Quinn said that he fully expects junior defensemen John MacLeod (Tampa Bay Lightning) and Brandon Hickey (Calgary Flames) to be back, and the same goes for sophomore forwards Jordan Greenway (Minnesota Wild) and Jakob Forsbacka Karlsson (Boston Bruins).
Meanwhile, he said that freshman defenseman Dante Fabbro (Nashville Predators) and freshman forward Kieffer Bellows (New York Islanders) will also be around for the 2017-18 campaign.
"The great thing is all these guys want to come back to BU," Quinn said. "If anybody else leaves it's because somebody really pushed hard and painted a scenario where it's, 'Wow, it's going to be hard for me to pass that up.' It's not because guys want to leave."
The prospects for 2017-18 get even stronger when considering the incoming freshman class.
Quinn confirmed that it currently features eight players, including five forwards and three defensemen. The former group includes Shane Bowers, Brady Tkachuk, Logan Cockerill, Ty Amonte and Henry Crone, while the latter group includes Kasper Kotkansalo, Cam Crotty and David Farrance.
From a cursory glance, those players ply their trade in the USHL (Bowers, Crone, Kotkansalo), BCHL (Amonte), with the U.S. National Team Development Program (Tkachuk, Cockerill, Farrance) and CCHL (Crotty).
"[Kotkansalo] is a kid who's going to be captain of the Finnish World Juniors team," Quinn said. "He's not only a great player but he's a man, too. Crotty's a big kid, Tkachuk is a big kid, Bowers is a good size kid. Crone, Cockerill and Amonte are more smaller, skilled players. It's a good balance, a really good balance."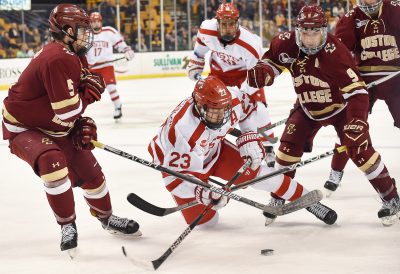 In other roster updates, Quinn said that goaltender Max Prawdzik will return after a semester of playing with the NAHL's Lone Star Brahmas. Otherwise, he expects no transfers coming or going and added that he feels BU's biggest strength will be its depth.
Lastly, Quinn said the charge before his group is if players continue to make strides on an individual level. From that, he said, team success will come.
Just what type of success remains to be seen, though.
If the likes of Greenway, Forsbacka Karlsson, Hickey and MacLeod stay, the Terriers will boast 12 upperclassmen, and Quinn said that experience is paramount in capturing  a national title.
Quite simply, that's where Quinn's benchmark is for a program that has five NCAA titles in its coffer.
"What stings so much right now is we were right there," Quinn said. "We'll be back."