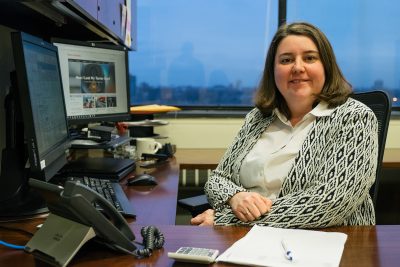 Boston University Financial Assistance has launched its BU Grant Assurance program, which certifies that any financial aid students receive from the university during their first year will be guaranteed throughout the rest of their undergraduate time at BU. Current upperclassmen will also be folded into the program.
The Financial Assistance team has been working on the program for almost two years, but certain aspects were changed after the students' frustration on financial aid was brought to light and sparked a series of meetings between administrators and the student activism group, #PoorAtAPrivateUniversity.
"The group helped inspire this," said Julie Wickstrom, director of Financial Assistance at BU. "The biggest impact [of #PoorAtAPrivateUniversity] was that it validated the direction we would go in. All of the references to meeting [with advisers], I don't know if we would have done that or if we would have thought about that if we hadn't heard from people."
After the Financial Assistance team — including Wickstrom and her colleagues — conducted research to see if the assurance program would work with their budget, they presented a plan to the BU administration for approval.
One point that was addressed in the meetings was the longevity of the program. If there were to be a recession, need from families would change significantly.
"In the past when we've had recession impacting our students' ability to contribute, the president has often provided us with a little bit more money to help meet those costs," Wickstrom said.
Wickstrom said she is certain the assurance program can last.
"We want to increase our retention rate. We want students to stay," Wickstrom said. "If we're not able to commit to this, we know we're going to lose students. From the operational perspective, that hurts the bottom line of the university, too."
Other peer colleges, such as Northeastern University and Babson College, have already implemented similar Grant Assurance programs, Wickstrom said, and prospective students often worry that they will not have the same grantee from BU.
"We were hearing from [prospective] students that they were getting information from other schools, telling them that their award was guaranteed for four years," Wickstrom said. "They were confused, thinking that not only would [BU grant money] not be guaranteed, but that they were worried they would lose it all together."
The Grant Assurance program comes along with several other changes, all of which aim at simplifying the financial aid process for students, Wickstrom said. The Financial Assistance website's revamp now includes contact information for financial advisers, notice of the new March 1 FAFSA deadline and an FAQ page for students and parents.
The March deadline will help students receive money earlier and plan accordingly, because "as soon as spring grades start posting, we can start sending awards," Wickstrom said.
In addition to the assurance program, the CSS PROFILE will no longer be required each year to confirming eligibility of need-based students, Wickstrom said. Students must, however, file the FAFSA annually to apply for federal and state financial aid including grants, loans and work-study.
Since the PROFILE is no longer required after the first year, the process will hopefully be simpler and allow for better financial planning, said David Janey, associate director of Financial Assistance.
"We're hoping that people will channel that energy in redoubling their efforts around planning," Janey said. "Information is power, information is useful."
For Dev Blair, a sophomore in the College of Fine Arts, the decision to streamline the process might put families at ease during their time navigating the financial aid process. Blair co-created the #PoorAtAPrivateUniversity Facebook group, which serves as a space for students from lower-income backgrounds to share their stories.
"I think it really shows that Financial Assistance is willing to work with students to make attendance as equitable as possible for students of all income levels," Blair said. "[It] gives parents and students alike much less to worry about as their education continues here at BU."
Pamela Muñoz, a CFA junior who created the group with Blair, said she feels like the school is listening to those in the group and taking appropriate action to meet their needs.
"I think it's a great step forward for so many of us in the school who felt the added stress of financial circumstances," Muñoz said. "I hope we can continue having open dialogue with them, because that really seemed to help them see what we were feeling."