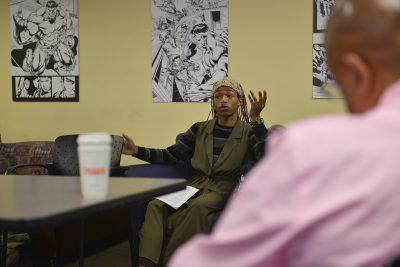 "I have workshops, and only three students came," Christina Coviello, a senior assistant director at the Financial Assistance office, said while sitting with approximately 15 Boston University students and staff Monday afternoon.
Together, they tried to brainstorm ways to improve the financial aid experience for BU students. The open discussion, organized by the College of Fine Arts sophomore Dev Blair and junior Pamela Muñoz in the Howard Thurman Center for Common Ground, drew staff members from various departments like the BU Financial Assistance and the Student Employment offices.
The CFA students are the creators behind the #PoorAtAPrivateUniversity Facebook group, which serves as a space for students from a lower-income background to share their stories and help others navigate financial aid at BU, The Daily Free Press reported Sept. 8.
Coviello said she started the Smart Money 101 initiative, which aims to provide students with online tools, information and other resources to promote effective money management. Unfortunately, Coviello said, Smart Money 101's Twitter account only has about 100 followers.
"I struggle with getting the message out," she said, and that seems to be the universal feeling shared by staff at the BU Financial Assistance office. Members of the office said they offer plenty of workshops and online resources, but students aren't responding well to what they have to offer.
Director of Financial Assistance Julie Wickstrom said she wants the discussions to help form a relationship between her office and the students.
"Something is still missing. I would love for anyone interested to be our sounding board for communication," Wickstrom said during the talk.
During the discussion, students did just that — they proposed ideas for better communication, such a finance-centric "Weeks of Welcome" panel, a new financial aid Facebook page and an interactive online program similar to the mandatory AlcoholEdu.
"So much of our learning is game-ified," Blair said. "It puts us in a situation where we have to think through these things on our own."
Blair said an interactive game or a conversational panel would put financial language into digestible terms that students could understand.
"The students who need financial aid don't always have the financial literacy to look at terms that don't have much meaning," Blair said. "It's easy to get lost in these concepts that are fairly new."
David Janey, an associate director in the BU Financial Assistance office, responded to Blair and said that the further they veer from technical language, the more the office risks inaccuracy.
"It's a balancing act," Janey said. "We have to simultaneously communicate with you and your parents. We're on two frequencies. It's not an excuse, but it's a challenge."
Students also brought up issues with housing, meal plans and other costs of living. Staff said a collaboration with other departments at BU would be a fruitful next step.
"This issue is broader than financial aid," Wickstrom said. "It's about everything."
Toward the end of the meeting, students said that although the frustration with financial aid negatively impacted their experiences at BU, some of them were able to find ways to get by.
Anais Azul, a senior in CFA, said she lives in the Harriet E. Richards Cooperative House to deal with the rise in tuition and the stress of financial aid.
She said more students should take advantage of resources like the HER House, and said she hates seeing open rooms in the house, which was founded in 1928 to reduce the cost of room and board.
"We have spots in our house," Azul said. "It's a resource that's not talked about enough."
Allison Vergel, a College of Arts and Sciences freshman, said although her parents' income dropped by approximately $40,000, she refuses to give up on her education at BU.
"Am I going to sacrifice my dreams just because I can't afford it?" she said. "I've been waiting to go to this school since I was 11."
The conversation was the first of two planned events, the second of which will be held Friday evening at the HTC.