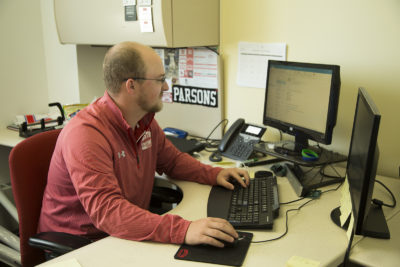 Boston University is well-known for its varsity sports teams. From multiple teams nationally ranked to players who are professional prospects, it is easy to call BU an athletic powerhouse.
However, there are teams besides the varsity sports. These athletes make up the 34 club teams that Boston University offers.
"A varsity sport is run by coaches in our athletic department, [you are] typically recruited to come play for the university. Students receive scholarships," said Ryan Parsons, assistant manager of intramural and club sports. "Club sports are student-run teams. All of our clubs have E-board members … while these teams have coaches as well, they are brought on by the team and are picked by the players rather than the school itself."
Although the club teams do not receive the same resources that their varsity counterparts get from the university, Parsons said he does believe there are perks to playing on a club team.
"I would say our biggest perk is the real world preparation," he said. "They are student-run organizations, a lot of students are in leadership roles, they get real world experience while still getting to play their passion. They get to put that on their resume and it's a little less chaotic than varsity sports so it is more flexible if you miss a practice or two."
BU's club sports program is made up of about 1,000 students — including All-Americans, highly-ranked players and national champions — who have competed regionally and nationally on 33 different men's, women's and co-ed teams for the past 40 years.
Some of the club sports that BU offers may not be mainstream in New England but they do offer students the ability to play and possibly develop a new passion, Parsons said.
"We offer sports anywhere from your kind of your generic soccers and hockeys we also offer cricket, and five forms of martial arts, synchronized swimming and water polo," Parsons said. "Sports that typically aren't a staple of Boston and the Northeast, but we offer them and give anyone, all BU students a chance to try it out."
It is also common for athletes to use club sports as a platform to continue their passions while still keeping up with BU's rigorous academics, Parsons said.
"I've been skating all of my life," BU figure skating captain Taylor Dean said. "Part of my reason for choosing BU was that there was a skating team. I've been wanting to come here since I was little. It kind of worked out that there was a skating team … It just all worked out perfectly."
Despite all the success that the program has had over the years, Parsons did note that there are some struggles that he has seen when it comes to the program.
"We have 34 clubs now, and we definitely want to take on more. We want to help everyone out. Space requirements are tough, being an urban campus wedged on Comm. Ave.," Parsons said. "We wish we had 100 fields and 10 million ice rinks and basketball courts but unfortunately that is not realistic. So we have to deal with what we get."

Despite these issues, BU's club teams still remain competitive every year. Because they do not recruit it is very difficult to know how the teams are going to be every year, which can add an element of surprise, Parsons said.
"Last year we had figure skating win a national championship," Parsons said. "Two years ago, men's volleyball was a national championship."
When club teams win, the BU club sports program is right among their biggest fans, Dean said.
"Club sports really does a lot for us, and they were one of our biggest supporters when we won," Dean wrote in an email. "They bought us a banner and displayed it and our trophy at FitRec. We're really thankful for all they do for us and help us in achieving our goals."