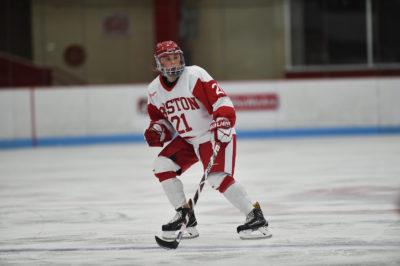 This last season for the Boston University women's hockey team ended with a heartbreaking defeat in the Hockey East semifinals on their home rink against one of its crosstown rivals, Northeastern University. For eight Terriers, that game closed the book on their collegiate careers, leaving a gap for the coaches to fill.
A new crop of players was welcomed to BU head coach Brian Durocher's squad this year — six freshmen and two transfers. The road to joining the lineup is different for each player, and Durocher said when it comes to recruiting players, he tries to go down the "pyramid" to figure out which players he would like on his team.
"It starts … from the top of the pyramid," Durocher said. "There's a couple of places such as national camps in both United States and Canada and maybe even some European countries."
Durocher said he starts with these more well-known places, national and regional camps, when he's looking for new players. After scoping out the field, Durocher said the formal recruiting process begins.
"Sometimes you get a kid who absolutely wants to come here, or you have to convince some to come here," he said. "Sometimes they'll come look at Boston University, but they may be better placed in a Clarkson [University] or St. Lawrence [University] or Dartmouth [College] because they aren't looking for an urban setting."
Durocher, who is embarking on his 13th year as the head coach of BU's women's team, said that there are often difficulties when recruiting players he wants for his team. He cites the difficulty that comes with scouting players from diverse geographic locations of North America.
"It can be hard," Durocher said. "Kids who live in Minnesota don't gravitate towards the East as often. The kid who lives up in parts of Ontario have great schools like Clarkson, St. Lawrence, Cornell, Colgate that are much more geography friendly."
Despite working through geographic challenges when it comes to recruiting, Durocher said he looks for players who have a few specific skills.
"We tend to gravitate towards kids that are four or five tools type of players, so can you skate, can you handle a puck, can you think, do you have some size," Durocher said. "If you get kids who have three of those skills, or four, you're going in the right direction."
Durocher noted that he doesn't just look to recruiting centers since those players are the best skaters and the ones who play a bigger role on the team. Rather, Durocher said he looks for more niche players who want to be wingers or who have the size to be defensive players.
This season, both of the transfers for the Terriers play defense.
Junior Reagan Rust spent her last two seasons at Rochester Institute of Technology and finished third on the team in points, with 14. She also led the Tigers in assists with 11. Over the weekend, Rust scored the Terriers' first goal of the season.
Joining Rust on the blue line is fellow transfer, redshirt sophomore Abbey Stanley.
Stanley appeared in 33 games for the University of North Dakota and tallied six points. While Stanley is a St. Louis native, she brings international playing experience to the Terriers as she has played against Team Canada with the U.S. Under-18 Team.
Durocher said the Stanley and Rust will bring some experience to the young team.
"They come in with experience, a preparedness that they've played one year and two years respectively of college hockey," Durocher said. "They've got the feel for the game and the knowledge for the game."
As for the rest of the new recruits, five forwards and one goaltender complete the incoming class.
Among the freshmen are experienced forwards Jesse Compher, who has won gold medals with the U.S. Under-18 Team in 2016 and 2017, and Lauren Klein, who played 55 games with Northwood School — notching 33 goals and 26 assists.
The freshmen squad will look to add to the Terriers' offense, which was one of two team's to finish last year's campaign without being shut out.
Freshman goaltender Corinne Schroeder, a Elm Creek, Manitoba native recently played for Team Canada at the 2017 International Ice Hockey Federation Women's World Under-18 Championship and took home a silver medal. She was also in net for Team Manitoba at the 2016 National Women's Under-18 Championship.
In her last season with Balmoral Hall School, she posted a .926 save percentage and 2.54 goals against average in her 15 appearances.
"When you bring a goalie to school here, that person you centrally hope has a good career, a good run," Durocher, a former Terrier goaltender, said. "Corinne Schroeder is somebody that hopefully will be a talented goaltender here at BU."
The team, which has six returning sophomores, will turn to senior captain and forward Rebecca Leslie for leadership.
Leslie is not alone in her leadership — senior forward Victoria Bach, senior goaltender Erin O'Neil and junior forward Sammy Davis will serve as assistant captains this season to help the new Terriers adjust to their classes and collegiate hockey.
"I definitely try to take them under my wing, make sure that they are comfortable," Leslie said. "The first step is making sure they're comfortable in their classes because that is always a pressure on them to succeed in the classroom. Then try to make sure they have high confidence while they're playing."
The team has suffered two serious injuries — Davis, who is out for the season, and sophomore defender Breanna Scarpaci, who will likely be out until the middle of the season, but Durocher said that he expects the team's rookies to play.
Leslie echoed Durocher's sentiments, saying she believes the playing time will be beneficial for the new players.
"I definitely think that with kind of a short lineup we're going to have to have a lot of freshmen playing and taking a lot of big minutes," Leslie said. "I think that will be really good for them and they'll be able to jump right into the line and not have to worry about anything."
This season's team is young, but that can be expected when it loses eight players. Now the Terriers have a new crop of talent that can bring their own strengths, skills and experiences to the ice.
Durocher said he has standard expectations for this upcoming season. After all, he did recruit the group eight and has had a lot of recruiting success in the past.
"You always have standards you try to uphold," Durocher said. "We're gonna try play this thing one shift at a time, one game at a time."