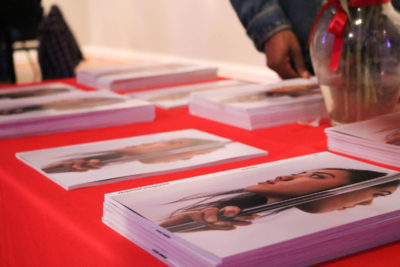 As Bella Kebede's voice floated through the air, students flipped through brand new copies of Boston University's first print magazine made by students of color for students of color.
Following months of postponement, Charcoal Magazine, a biannual print publication dedicated to showcasing the work of artists of color, officially launched on Saturday with a party held at Boston University's Faye G., Jo, and James Stone Gallery.
Originally, Charcoal was supposed to launch last semester, but publication was delayed due to printing issues, according to Remy Usman, co-founder and creative director at Charcoal.
Adia Turner, co-founder and managing editor at Charcoal said the publication aims to provide a voice for "what we think is a voiceless population here at BU."
"They have a certain narrative, in my opinion, that gets pushed, and I love BU, but I think this publication is something that's needed," Turner said. "Visibility, I think, is one of the main things we're interested in making Charcoal a vehicle for."
Isabel Decontreras, a freshman in BU's College of Fine Arts, said Charcoal's very existence could change that narrative. "Even just in existing, [Charcoal] is supporting actual diversity and not just claimed diversity at BU," Decontreras said.
But the magazine's greatest impact, Decontreras said, will be on artists of color like herself.
"The aesthetic is very nice. It's also something I kinda want to be a part of," she said. "As a person of color in the arts world, this is something I support and something I'm excited about because you don't see much of it."
Charcoal's first issue, Mirrors, focuses on self-reflection, Usman said.
"We're trying to capture the general POC experience, specifically how that interacts with art," Usman said. "Our first issue, Mirrors, is about trying to introduce ourselves to the community."
Bidemi Palmer, a senior in BU's Questrom School of Business, was interviewed about her Instagram account "@blackinshanghai," which chronicled her experience studying abroad, for Charcoal's first issue.
"Last year, I studied abroad in China — Shanghai, specifically. And China is quite a homogenous country, so obviously I stuck out like a sore thumb," Palmer said. "I found a lot of people were actually taking pictures of me, like without permission."
Eventually, Palmer said, she began photographing those photographing her without consent. Palmer's photos, which are published alongside Charcoal's interview with her, feature dueling gazes: the cellphones of those photographing her and Palmer's own lens.
"It was almost instinct for me to hold up my camera because I really love photography," she said. "And I didn't really think anything much of it at the moment, but when I went home and I was looking through my pictures it was just such a beautiful photo."
Charcoal's next issue, Sweet, was inspired by what it's like being a person of color viewing America's turbulent news cycle, Usman said.
"For Sweet, we want it to be the opposite of that," she said. "So, like, what's so great about being a person of color, being an artist this space. Let's celebrate the small victories."
What remains unclear, Usman said, is Charcoal's future source of funding. BU's Howard Thurman Center payed for Mirrors' publication but won't support Charcoal financially hereafter. The decision, which Usman called "disappointing," was made in accordance with BU's publications policy.
"All student journals of opinion must operate independently of the University and without University financial support," the university's policy reads.
Usman said Culture Shock, a student-run opinion-based publication, is supported by the HTC. Usman has inquired about what distinguishes Charcoal from a publication like Culture Shock, but her question has yet to be addressed.
"I think [opinion-based] is too broad of a designation," she said.  "I don't understand it, and I haven't received a satisfactory explanation."
Currently, Usman and Turner plan to fund Sweet's publication via Kickstarter. At press time, Charcoal's Kickstarter, which launched last week, had raised $51 of its $2000 "all or nothing" goal, which backers can contribute to until March 14.