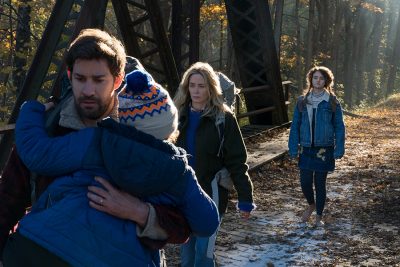 In "A Quiet Place," silence equals survival. John Krasinski's newest film, which follows a family hiding from monsters that hunt by sound, will premier in theaters nationwide Friday.
A self-described "scaredy-cat," Krasinski said he's normally too scared to watch horror films, let alone write, direct, produce and perform in one.
"It's really weird," Krasinski told The Daily Free Press. "I remember a friend of mine at SXSW came up to me and said, 'I never thought you'd direct a horror movie.' And I said, 'Yeah, I can't even watch scary movies.' And he said, 'Oh, that's why you directed such a good one.'"
In the end, Krasinski said, his fear actually wound up being a creative advantage.
"I had one bonus, which is I know what scares the hell out of me," Krasinski told The Daily Free Press. "And so every scene that I was writing, I would get nervous in that moment and say 'It's really dark, there's no one around, and so what would scare me?' And it was like, 'Oh I'll just write this because I would pass out if this happened in real life.'"
Just a year ago, Krasinski said, he thought he'd never direct something like "A Quiet Place." But weeks after his second daughter's birth, he received the script and really connected with it.
"And so I was already in this state of terror, of keeping this girl safe, keeping this girl alive, and whether or not I was a good enough father to be her father," Krasinski said. "It doesn't take a lot for me to cry, but I was wide open for this one."
From there, he proceeded to rewrite the original script. Simultaneously wearing four different creative hats, Krasinski said, made the movie the most intense project he's ever done.
"I'm an emotional dude, so I'll tell you everything. This is the most I've ever put into a project," Krasinski said. "I think this is a love letter to my kids."
When he rewrote the script, he focused on making every single part of the film "come back to being a family." In his eyes, "A Quiet Place" was actually more family drama than horror film. The horror, Krasinski said, comes from the audience's emotional attachment to the family.
"It's funny. On 'The Office,' I remember Greg Daniels, the creator of the show, telling me, 'Your job is not to deliver these lines funny. Your job is to deliver these lines. If people think they're funny, that's up to them. And if people think that what you say to Pam is emotional, that's up to them, too,'" Krasinski said. "And I gotta be really honest with you, I never would have done this movie if it wasn't for that advice."
His biggest filmmaking regret? Not being a better student.
"Probably the biggest regret I have on the movie is that I didn't learn more sign language," Krasinski said. "And I know there's a lot of pretty languages out there, but there's nothing more beautiful than sign language."
In the film, one of the family's children, Regan (Millicent Simmonds), is deaf. Simmonds, best known for "Wonderstruck," lost her hearing during infancy. Krasinski said casting a deaf actress was "non-negotiable" and Simmonds was both a spectacular actress and teacher, patiently correcting her co-stars when they fumbled new signs.
While they were shooting, Krasinski said, Simmonds observed her co-stars' respective characters actually coming out in the ways they were signing.
"And I said, 'What do you mean?'" Krasinski said. "And she said, 'Well the father is a guy who doesn't care about anything in the world but keeping people safe, so all of his signs are very curt and short. And Emily's is trying to give these kids a much bigger life, so hers are much more poetic and gesture-y.'"
The film marks Krasinski's first on-screen collaboration with his wife of eight years, Emily Blunt. He's called Blunt's agreement to appear in the movie "the greatest compliment of [his] career." Their work together, he said, is much like their marriage — a constant collaboration.
"Very similar to our marriage, we talk about everything so that we never find ourselves in a place where we're actually having a fight over something," he said. "We try to keep it small conversations, rather than big ones."
Perhaps fittingly, filming "A Quiet Place" has given Krasinski a new appreciation for calmer soundscapes, like nature. Now, he regularly takes his daughter sky gazing, using the time to clear his head and simply listen.
"And so now she actually asks me to do that," he said. "She'll say 'Look there's a bird and there's a plane.' And I'm like 'I know, and there's Superman.' And it's not a joke that she understands yet, but she'll get there."