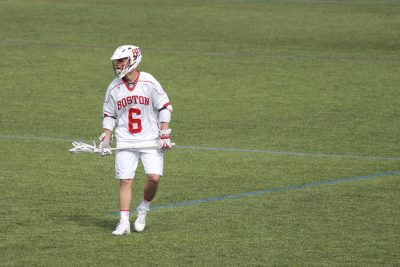 After dropping a 19-18 nail-biter in overtime at Harvard University Tuesday night, the Boston University men's lacrosse team will look to snap its three-game losing streak this Saturday at Lafayette College.
The Terriers (4-5, 0-3 Patriot League) have yet to win a Patriot League game in 2018, but can change that with a win over the likewise winless Leopards (2-7, 0-4 Patriot League).
BU started its season with some success, going 4-2. Since then, the last three games have been tough losses for the Terriers.
Two of these contests were dropped to league opponents — Colgate University and Bucknell University — but BU's third loss, against Harvard (6-1, 1-0 Patriot League), came during a much closer game with a better offensive showing.
Thirteen of the Terriers' goals came from junior attack James Burr, senior attack Jack Wilson and sophomore midfielder John MacLean, and BU went into the half with a 9-6 advantage.
However, the Terriers were outscored 9-4 in the last quarter by the Crimson to push the game into overtime.
Burr said that in order to finish the game strong, it's imperative for the team to begin the second half strong.
"We got to come out strong in the first half," Burr said. "We've been pretty good about that this season and then at half time, you've just got to compose yourself. You [have to] think of it as a whole new game and just come out strong … and keep up your energy, keep up your composure and just finish it."
Freshman attack Chris Gray also displayed his playmaking skills Tuesday evening against the Crimson.
Gray notched eight assists and two goals, setting a program record for assists and points in a single game.
The Wading River, New York native currently leads the team in points with 41, consisting of 16 goals and 25 assists.
"Chris is probably one of the best players I've ever seen or played with," Burr said. "I knew that pretty early this fall. He just makes it easy to play with. I mean everybody just feeds off him. He just has a special way about him and how he plays, how he sees the field."
The Terriers will look to build on their improved play going into Saturday so that they can put an end to the streak and finish the season strong.
BU head coach Ryan Polley said he saw some progress in many areas during the Harvard game.
"We played really strong offensive ball. I think [assistant] coach [Mike] Silipo is doing a great job of figuring out what's going to work," Polley said. "I think we played great — loose and free. I think we figured out our faceoffs. Before, we were way below the 50-50 mark, but now we're back at that. The one area we've struggled all year where we still need to improve is at the defensive end."
While BU has had struggles of its own, Lafayette has not fared any better.
After starting the season with a 2-1 record, the Leopards have now lost their last six games, including all four of their Patriot League games played in 2018.
During this six-game stretch, Lafayette has struggled offensively and was even limited to only four goals against conference opponent the United States Military Academy on March 3.
However, the Leopards put up 11 goals, as seven different scorers found the back of the net, in their last outing against Lehigh University.
Lafayette's leading scorer, junior attack Conor Walters, was limited to one goal, but had five assists. He currently has a team-high 29 points.
What set the Leopards back the most though was their performance at the faceoff X, going 6-for-33.
The Terriers will want to take this opportunity to grab a win and gain some momentum, as Lafayette could be one of their weakest opponents left on schedule.
But Polley expects a fight from the Leopards.
"Both teams are winless in the conference, so we certainly expect a playoff atmosphere where both teams come out and put their best foot forward," Polley said. "We're really expecting their best effort."
BU will also take on five straight Patriot League opponents, starting with the Leopards, to end the regular season.
With such important games standing ahead of the Terriers, Polley said his team needs to play a solid game from start to finish.
"We were close against Harvard after the first 10 minutes. We were solid for most of the game, but we kind of imploded in the last five minutes," Polley said. "I think we played well defensively, too, so our focus is really to play solid offensively and defensively for a full 60."
Nicole Havens contributed to the reporting of this article.