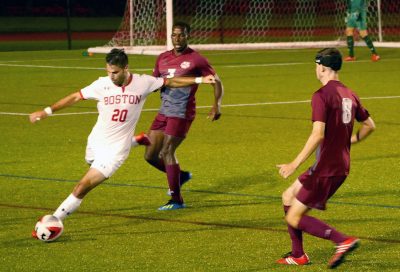 The Boston University men's soccer team earned its first win of the season Friday with a 3-2 result against the University of Massachusetts Amherst (2-2-2).
In the Terriers' (1-2-2) most recent row, they came back from a 2-0 deficit against Dartmouth College to end with a score of 2-2 after double overtime.
Now five games into the season, BU is on its way through an Ivy League-filled road series.
Ivy, Ivy, Ivy
Including the match against Dartmouth (0-3-1), the Terriers are facing three Ivy League teams as their last chance to tune up before the team begins Patriot League-play Sept. 22.
The first of these games was played in Hanover, New Hampshire, last Tuesday, where BU and the Big Green faced off for the first time since 2016, when then-senior forward Felix De Bona slotted a curling shot into the top left corner in the 92nd minute to clinch the overtime victory.
During Tuesday's game, the Terriers dropped to 2-0 soon after halftime before forcing two more goals, forcing the game into a 2-2 double-overtime ending.
BU head coach Neil Roberts said the match-up against Dartmouth, the 2017 Ivy League champions, gives the team some confidence.
"It lets us know we can come back," Roberts said. "Having that second goal go in against us the way it did and being able to respond to that is good for the team."
The team will face off against Princeton University Saturday and will only have to make a short ride into Allston to face off against Harvard University the following Wednesday.
While the Terriers only have one win this season on Nickerson Field, they have yet to lose a game on the road.
Two posts, eight yards apart
The Big Green faced down senior goalkeeper Mike Bernardi in his first start since the team's Aug. 24 loss against the University of Rhode Island.
Bernardi, who transferred to BU from St. John's University in time for the 2017 season, shut out the other team in more than half of his 13 starts last year.
Sophomore goalkeeper William Bonnelyche has made one more start than Bernardi and has a goals-against average of 2.17 with a .533 save percentage.
As a freshman, Bonnelyche claimed his first career shutout against Harvard (1-3) and made a season-high four saves against Princeton (1-3).
McDonnell leading the way
The junior has been a bright spot for BU during the start to the season.
With another season under his belt, Matt McDonnell has scored six goals this season, which is good enough to currently lead the Patriot League. His contributions account for 75 percent of the Terriers' goal production.
McDonnell also leads the team with eight shots on goal and 17 shot attempts, the latter of which is tied for third-most in the Patriot League.
"Having six [goals] so far in the season is massive," Roberts said. "We couldn't ask for more from him."
During this week, McDonnell earned national recognition and was named a Patriot League Player of the Week for the second time this season.
After scoring the first goal of the Dartmouth game, McDonnell exited the game with what Roberts characterized as a minor injury. He stated that he did not believe McDonnell would miss much playing time.
Barkoff, the Terrier
Three BU players earned nods from the Patriot League this week.
The second player was senior back Josh Barkoff, earning the first accolade of his playing career.
Barkoff has started in all five games this season and assisted on a goal against UMass (2-2-2).
The native of East Brunswick, New Jersey, played in 17 games his junior year after not appearing in play during his freshman and sophomore years.
Iceland picking up the pieces
Two natives of Gardabaer, Iceland, have made a significant impact on the Terriers' offense.
Sophomore midfielder Toti Knutsson has produced a team-leading three assists, all on McDonnell goals.
Knutsson's first two assists came on the first and third of McDonnell's hat-trick goals against Boston College, while his third was shared with Barkoff's UMass assist.
As a freshman, Knutsson started in 17 games, assisted on a team-high five goals and was once named Patriot League Rookie of the Week — a title freshman midfielder Kari Petursson can now add to his resume.
It was Petursson who secured the game-winning goal in BU's first win of the season while a curved corner kick set McDonnell up for the Terriers' first goal against Dartmouth.
"[Petursson]'s coming off an injury during the summer, so he's not up to full speed yet," Roberts said. "He got in a lot of running [during the game against Dartmouth] and has made some good plays, so we'll see how he develops."