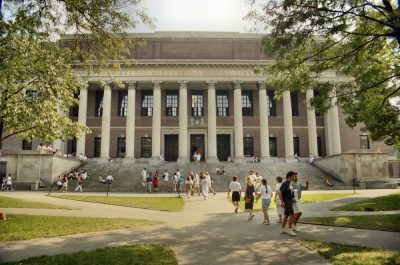 Along with an abundance of Nobel Prizes and Division I athletic teams, Harvard University bears a history of sexism, including but not limited to former President Lawrence Summers' 2005 public argument about women being naturally worse at science and, more recently, their men's soccer team's infamous "scouting report," which ranked the appearance of newly recruited female soccer players.
On Saturday, more than 200 attendees gathered at Harvard's Kennedy School of Government for their first annual "Women in Power Conference," which was organized to celebrate powerful women and engage in conversation about advancing women's leadership.
The event's co-chairs and founders, Ali Collins, Bar Peled and Marie Perrot, explained that a crucial aspect of the conference was the diversity of the panelists. Their vision included an environment that welcomed people regardless of gender, race or age.
"We wanted to make it as inclusive as possible because if it's just women speaking to women, then we're not doing anything to promote gender equality," Collins said. "We need men to be a part of the conversation as well and to figure out how they can be our allies in this fight towards equality and leadership."
The conference featured three keynote speakers: actress Amber Tamblyn, who appeared on "General Hospital" and starred in "Joan of Arcadia," Sen. Maggie Hassan and Brittany Packnett, vice president of national community alliances for Teach for America.
Tamblyn opened with a speech focused on allying women from different backgrounds.
"Often, change comes from the dialogue, not the monologue," Tamblyn said. "The intention of this conference … is to look at how we can use the ways in which we've felt around marginalization, around the sense of being left out and of being alone, and really not only support ourselves but also reach out around us and create a chain of support."
The conference featured panel discussions on topics ranging from the "New Age of Feminism" to "Women in National Security" with Michèle Flournoy, former under secretary of defense for policy and the highest ranking woman to ever serve in the Pentagon.
Flournoy addressed several questions, concerning both diplomatic issues and gender issues.
She recounted regularly hearing "What's a pretty girl like you doing here?" from male colleagues early in her career. But eventually, Flournoy said, women reach a stage where they're powerful enough that people are too scared to ask.
"That's my new career goal!" shouted a member of the audience in response, prompting laughter from other attendees.
Dorothy Rasco, chief financial officer at NASA's Johnson Space Center, said that even though she was attending as a panelist, speaking in the "Evolution of Technology and Women in the Workplace" talk, she saw the conference as an opportunity for learning.
"I think that this conference is an excellent opportunity to network with young leaders, with young women leaders, and I look forward to talking to different people," Rasco said. "[The first two sessions] have been outstanding."
Rasco said she flew to Boston for the conference because she believed it was a progressive step for women's empowerment. As someone who was a generation older than most other speakers, there was also a lot she wanted to share, Rasco said.
"I'm here to share my journey over the last 30 years and then to learn so that as I continue my next 10 years with my career, I can help bring young women into science and technology."
Over the course of the day, panelists also discussed North Korean politics, recent scientific advances, intersectional discrimination and Mark Zuckerberg's congressional testimony.
"It feels empowering to be around … human beings who are confident and thoughtful and motivated and doing really incredible work," said Ben McGuire, a graduate student at Harvard's Kennedy School. "I loved that they spent a lot of time talking about not just biological roles but also going into intersectionality and talking about a future that is nonbinary and inclusive."
Peled said the process of organizing the conference changed the conversation around women's empowerment at Harvard.
"[The conference] really has ignited a new sense of culture in the school and what the students can accomplish and how the students could go about leading change if the administration is not going to do so," Peled said.
The organizers hope the conference becomes their legacy at Harvard, Perrot said.
"We hope that this will continue as our legacy, as something we could give a piece of back to the school so that the school and the generations to come could benefit from it," she said.