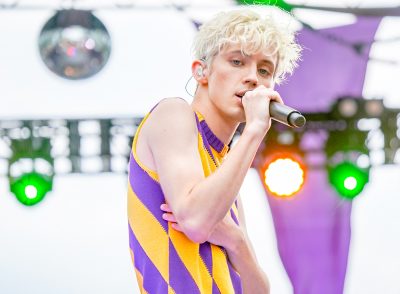 Troye Sivan has had a rollercoaster of a career in the last five years. Sivan initially gained a following recording YouTube videos in his bedroom in Australia, but near the end of his time as a YouTube star, Sivan launched his music career and released his debut album, "Blue Neighbourhood," in 2015.
In the album, Sivan lilts about love and life in melodies that encourage the listener to sway along with him. His sophomore album is no different, but comes with an edge of honesty and joy that almost feels defiant.
It's clear that Sivan has grown since "Blue Neighborhood," which gently whispered what "Bloom" proudly yells. The themes of his second album focus mostly on milestones in sex, relationships and emotional vulnerability that come with truly loving another person.
Throughout the album, he covers the playful flirting of a first meeting, the nervous jitters of a first time and unabashed desire. It's not necessarily the music itself that breaks boundaries, but instead the fragility of the lyrics. His stories of early love and formative relationship experiences draw the listeners in and keep it fresh.
"Bloom" begins with "Seventeen," where Sivan looks back on meeting older men when he was a teenager, taking the notion of the classic and slightly-perverted "jailbait" song made famous in the 1970s and '80s and telling it from the perspective of the younger partner.
Although he laments a loss of innocence, he feels flirty and in control, singing, "I got these beliefs that I think you wanna break / Got something here to lose that I think you wanna take from me."
The titular track is about the excitement and nervousness that come with Sivan losing his virginity, and while he professes utmost love and devotion to his partner, he wavers in between lines: "I need you to / Tell me right before it goes down / Promise me you'll / Hold my hand if I get scared now."
This is why Sivan's voice is essential in pop music today. Although his is not the only one, his voice is one of the loudest.
Not all of the songs are as emotionally intense as the first two. The single, "My My My!" — in particular — feels like swirling neon lights and excitement, if those things could be conveyed in a celebratory love song.
That's what "Bloom" seems to be about — the exciting, passionate love for another person and the gentle vulnerability that comes with it. This complex swirl of emotions makes the album stand out among numerous other contenders for the best pop album. Sivan is unabashed and open in his lyrics, even when the melodies are less imaginative.
The most noticeable part of the album is the pronouns Sivan sings in his songs. He came out in a YouTube video in 2013 and uses his experiences — like meeting older men on Grindr — to make his music relatable to other gay men. This is why Sivan's voice is essential in pop music today. Although his is not the only one, his voice is one of the loudest.
While he celebrates love as it is, Sivan makes it clear that he's not naive about relationships. He sings about a relationship gone sour in "Plum" and strays from his dance-pop joy to a more somber sound in "The Good Side," which is an apology to his ex, the subject of his previous album.
Ariana Grande, who sings with Sivan on "Dance to This," is fresh off her fourth album, "Sweetener." The album features similar themes of love, all to a beat you can move your hips to. While "Bloom" is not as put-together as "Sweetener," Sivan's album is a good first step to get to something like Grande's.
"Bloom" closes with "Animal," a slower and more atmospheric synth accompanying Sivan's words of devotion to the boy he loves. The song feels like a fitting end to an album bursting with energy, showing that while love is hectic and thrilling and scary and exciting, a devotion to one person is as wonderful as anything else.
Sivan's confident voice is essential in pop today. Happy in his life and sexuality, he created an album that celebrates being gay in a fun, exuberant way. At the same time, Sivan managed to reveal vulnerability, which makes his words so bare and refreshing. "Bloom" is a much-needed reprieve from pop music that floats over the surface, addressing life at just face value.