For immigrants and refugees, public health resources like access to clean water, basic health care and a safe living environment never come as a guarantee.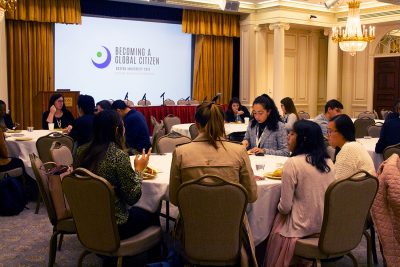 "Becoming a Global Citizen: Analyzing Immigrant and Refugee Health," held on Oct. 5 at the Boston University John and Kathryn Silber Administrative Center, served as the first interdisciplinary global health student conference at BU. 
The conference served as the inaugural "Becoming a Global Citizen" event. Groups across campus were represented, such as Timmy Global Health, an international non-profit dedicated to expanding access to healthcare and Engineers Without Borders, a student-led organization that puts engineers in touch with under-resourced communities in the developing world to solve issues afflicting the community. 
After a brief keynote address from Jennifer Huer, a policy and law professor at Northeastern University, the conference broke out into various sessions that covered topics including humanitarian engineering, racism's effect on public health and the intersection between immigrant and refugee policy and health disparities.
Ana Souza, a sophomore in the College of Arts and Sciences and a project leader of domestic programs for Engineers Without Borders discussed projects the group has taken on in recent years.
"It's not voluntourism," Souza said. "We go there, implement [the plan], and then we keep checking on it and evaluating it to make sure it's sustainable, because our goal is not just to implement something, and to just be done with it, our goal is to make sure it's long lasting, so the community can eventually support itself. So our role is not only the engineer, and the partner, but the educator."
Madison Calvert, a junior in the Sargent College of Health and Rehabilitation Sciences discussed the sexual and rehabilitative health of refugee women as a lead-in to the intersection between Immigrant/Refugee Policy and Health. 
Calvert spoke about her work in a mobile medical unit in Syrian Refugee Camps.
"I just saw the immense need for more advocacy and just knowledge," Calvert said. "I think it is pretty heartbreaking and impacting to see the amount of women and adolescent females who are coming in with sexually transmitted diseases or just traumatic injury due to sexual violence. And I think that was more just on the outside physical aspect. But there's also like the long term mental repercussions." 
Calvert said she thinks anyone who's passionate about a subject can get involved in whatever way, no matter their major, by reaching out and asking what they can do to help.
"I think people in this community and this, like, public health community at BU are really invested in making a change and undertaking other people and helping them foster the skills that they need to also help make a change," Calvert said.
Yvette Cozier, an associate professor at the School of Public Health, spoke about how race and racism affect immigrant and refugee access to health care. 
Coming from outside the field of immigrant health, Cozier said she wanted to draw connections between her own study of psychosocial stress, particularly around discrimination and health care.
"The chronic stressors that African American women, for example, experience on a daily basis, are not that different from immigrant groups have been here for generations, or have recently arrived," Cozier said. "Many of the same health disparities emerge in these other groups, simply because, in addition to the stress, the fabric of the community is being destroyed through policy."
Cozier said she believes a big part of helping communities across the globe is fully understanding the context they live in, something she said is not being emphasized in policy-making.
"We can't solve a problem until we know both the history, its historic roots, and understand all the, sort of invisible tracks that are put down that we're not even aware of," Cozier said. 
Ayomide Ojebuoboh, a senior in CAS and the advocacy chair for the Timmy Global Health branch at BU, said it was important for her that students realize that everyone can make a difference when it comes to healthcare, no matter what field they're in.
"If you're a lawyer, you can make a difference. If you're a physician, you can make a difference," she said, "Or even if you're an engineer, or whatever you do in your life, you can still play a role in immigrant and refugee health."
In honor of National Newspaper Week, we're asking you to make a donation to The Daily Free Press. The financial support of our community is important now more than ever to help us continue writing stories like this for readers like you. Please chip in whatever you can. Read more and make a donation here. Thank you.