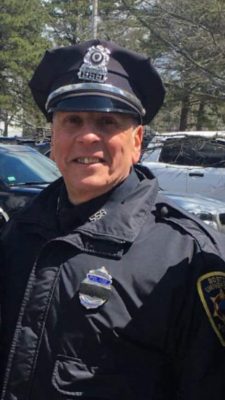 The Boston University Police Department lost long-serving officer Ronald Gately Thursday.
His death was announced by BUPD Chief Kelly Nee on the department's social media accounts the day he passed. A flood of people and police departments commented on the posts across the social media platforms expressing their condolences and grief.
Gately worked for BUPD for 21 years, according to the social media posts, and served as a police instructor for more than 30 years.
Gately died from cancer, said BUPD Sgt. Jefferey Burke, a close friend of Gately who worked with him for the past 20 years.
"It just accelerated towards the end more than anybody was anticipating, and the end kind of came quick," Burke said.
The Lynn native would have been 65 in December and had plans to retire from active duty next spring or summer and then continue teaching law enforcement officers, according to Gately's friend and BUPD Sgt. Larry Cuzzi.
Cuzzi, who graduated from the police academy with Gately in 1997, said Gately was a great role model by keeping everybody in check and ensuring that other officers were always doing the right thing.
"It was a pretty devastating loss for us as a department as a whole," Cuzzi said. "He's a special guy. He's a guy who will put a smile on your face anytime you're around him."
Burke said he remembered Gately as one of the most professional officers he ever worked with.
"He was very well-liked and well-respected in the workplace and in the larger Boston community in general," Burke said.
In the workforce, Gately was both a police instructor in the academy and a firearms and defense tactics instructor. He trained thousands of police officers and taught in every police academy in the state, Cuzzi said.
"[He was] one of the last few old-school police officers that really had a passion for his job and really enjoyed providing knowledge for a lot of the younger officers that came here," Cuzzi said.
Gately also held a black belt in karate. Before becoming a police officer, Gately was a chief instructor of Shaolin Kempo Karate at a studio in Waltham, former studio owner Joan Richert said. He eventually took over the studio around 1986, she said.
"He was always consistent, he was always there," Richert said. "[He was] a really good guy."
Gately was kind and patient with his students, who were mostly children ages 3–5, Richert said.
Cuzzi said Gately was a loving husband to his wife Claire and a proud father of two daughters. He loved spending time with his grandchildren, Cuzzi said, and his office locker displayed pictures of his family.
Gately liked sports and loved his local football team, the New England Patriots. He also loved music and played the guitar on a regular basis.
"He was pretty talented and loved to play his guitar whenever he could," Cuzzi said. "That was one of his biggest passions outside of work and his family."
Cuzzi said he and Gately used to joke about Gately's tendency to be remembered.
"I think passing on Thanksgiving really just left an impression that this is his way of saying you'll never forget me," Cuzzi said. "Now we know every year on Thanksgiving is Ron's day, and we'll give thanks for that, so that's something special to watch."