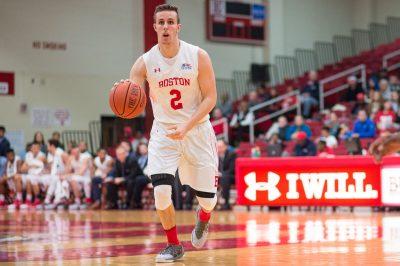 Boston University men's basketball led nearly wire-to-wire to win 68-54 in a Turnpike Trophy matchup against the College of the Holy Cross Wednesday night.
BU (10-12, 3-6 Patriot League) snapped a four-game losing streak in front of a deafening crowd at Case Gym on Club Sports Night. The students never let up in cheering on their fellow Terriers in a big win for the team.
"The crowd was awesome. It was a great atmosphere," BU head coach Joe Jones said. "Club Sports Night is always one of the best nights of the year."
Right away, BU looked primed to put on a show for their loud and proud supporters. Junior forward Tyler Scanlon scored six of the team's first eight points on two threes, and in the first seven minutes the Terriers did not miss a shot.
Scanlon would lead all scorers in the first half with 12 points on 5-6 shooting from the floor.
On the defensive end, BU settled in to a 2-3 zone that they would use for the entire game. Although the Terriers gave up the ball a good amount themselves, their zone never allowed Holy Cross to get comfortable when the Crusaders (12-10, 3-6 Patriot League) were on offense.
Holy Cross turned the ball over seven times in the first half, leading to several easy baskets for BU in transition. All night, BU defenders got into passing lanes and pestered Holy Cross ball handlers.
"Tonight, we did a great job the [defensive] gameplan," Jones said. "Our guys played hard, they were focused. … I thought [they] played great basketball."
At the break, the Terriers led 30-26, but the score was not that close for long. BU went on a 21-9 run to start the half after big plays from junior forwards Max Mahoney and Tyler Scanlon.
First, Mahoney raced down the floor for a putback dunk, forcing the Crusaders to call a timeout 2:16 into the half. Then, Scanlon came up with the steal and a dunk that sent the crowd into overdrive.
A few minutes later, Mahoney made the crowd erupt again, scoring on a basket with a foul after a loose ball bounced off multiple players and sent a few to the floor. When the dust cleared, BU had a 51-35 lead and had effectively ended the game.
The duo of Scanlon and Mahoney was unstoppable against Holy Cross. Scanlon would finish with 17 points, 10 rebounds and six assists to win the Turnpike Trophy MVP. Mahoney had 19 points and nine rebounds, narrowly missing a chance to add another double-double to his tally.
BU's starting frontcourt combined to grab 27 rebounds. In comparison, the Holy Cross starting big men combined for just seven. Overall, the Terriers held a 42-18 advantage on the boards.
"We had a size advantage against them. I thought we used that to our advantage," Jones said. "That has to be a strength of ours if we're going to play with size. I thought our guys went to the glass pretty hard."
Sophomore guard Javante McCoy also led the team with 4 for 6 shooting from beyond the arc. As a team, BU shot 11-20 from long range. At 55 percent, it's the best rate they have shot the three ball at all season.
With a four-game losing streak behind them, the Terriers will head to Colgate University Saturday. After arguably their best game of the season in conference play, BU has a chance to use this as fuel to go on a run in the second half of their Patriot League schedule.
"We were far from perfect," Mahoney said. "… But it's definitely something we can build off of. We just have to keep working and keep improving."