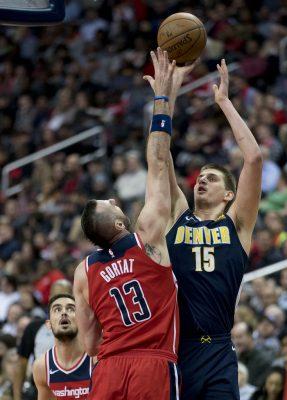 Sometimes, all it takes is one player to win a playoff series. Maybe it's a bad matchup for a certain team, or maybe a singular talent takes their opponent down with unstoppable play. In this year's playoffs, we have already seen Damian Lillard eviscerate the Oklahoma City Thunder and Kevin Durant dominate the Los Angeles Clippers.
As the second round begins, each series has a player that could single-handedly make the difference in a win or a loss for their teams. Each matchup has one guy that could decide whether a team is watching the conference finals from their penthouse or their home court.
Here are four guys that could tip the scale, or serve as the fulcrum, for each second round series.
Nikola Jokic
Nikola Jokic is obviously a great player, and he has clearly been the Denver Nuggets' best player in the playoffs so far. In the first round against the San Antonio Spurs — the first postseason series of his career — he averaged 23.1 points, 12.1 rebounds and 9.1 assists.
Those are elite level numbers, especially for a center. His Game 6 performance of 43 points, 12 rebounds and 9 assists, even in a loss, said a lot about Jokic as a player. He isn't going to shy away when the pressure is on, and he is going to do everything in his power when it matters most.
Now, in the second round against the Portland Trail Blazers, there is no question that Jokic is great. The next question is how great Big Honey can be. He has already proven his ability in the first round, but now he has a chance to get the Nuggets to the conference finals, which would be a huge accomplishment for such a young team.
Can he outduel Lillard to be the best player in this series? Can he continue to maneuver the balance between getting his shots and setting up teammates? These are two questions to be answered, for better or for worse, in the remainder of the series.
In Game 1, Jokic had 37 points, 9 rebounds and 6 assists in a 121-113 Nuggets win. So far, it looks as though he is going to take advantage of a matchup with Enes Kanter and either Meyers Leonard or Zach Collins off of Portland's bench — none of whom are very good defenders.
If the Nuggets are to win this series, the center from Serbia has to keep dominating and show the NBA world his regular season and round one showing was no fluke.
Danny Green
With firepower on both sides, the semifinal matchup between the Toronto Raptors and the Philadelphia 76ers has a chance to be an exciting series.
The Sixers — with Joel Embiid, Ben Simmons, Jimmy Butler and Tobias Harris — have four players who can break out in any game. The Raptors, with Kawhi Leonard and Pascal Siakam, have two players that have been nothing but great so far in the playoffs.
However, Toronto's two frontcourt stars are going to need some help if the Raptors are going to get to the conference finals. Kawhi and Siakam can't shoulder the entire offense, and Green is just the guy that can ease the tension.
Unfortunately for Green and the Raptors, he hasn't shown up after the two games that the two teams split up north. Against Philly, Green has just 10 points on 3-13 shooting from the floor. He is shooting just 2-10 on threes, the shot that makes him valuable on the offensive end.
In Game 2, Danny missed two potential game-tying threes in the final minute, including the Raptors' last gasp with less than 10 seconds left. He is on the floor because he can shoot threes. When he misses big threes, that obviously does not help the team.
Green doesn't have to score 30 points a night. He doesn't have to take over a game like Steph Curry. But when Kawhi and Siakam draw the defense on drives and kick it out to him, he has to knock a few down. If he can start to hit threes, it'll just be one more reason why the Raptors advance and get a chance to play for their first NBA Finals in franchise history.
Jayson Tatum
Jayson Tatum was the star of last year's NBA playoffs for the Boston Celtics. Everyone remembers his dunk and follow-up celebration on LeBron James in Game 7 of the Eastern Conference Finals.
But this year, Tatum has been a complete no-show for the Celtics in the second round against the Milwaukee Bucks. After averaging 19.3 points in the first round against the Indiana Pacers, he has scored just 9 points on 4-17 shooting in two games against Milwaukee.
The Celtics need a consistent second option in a series where the Bucks already have their pecking order set in stone. It may be too late to expect Tatum to explode for 25-30 each game for the rest of the series, but what he showed in Games 1 and 2 is unacceptable.
The most frustrating part about Tatum is his lack of aggression. The Bucks weren't doing anything particular to take his offense away, like how they were swarming Kyrie Irving and at times sending two defenders at Al Horford. If anything, they were conceding shots to Tatum by defending him with smaller guys like Pat Connaughton and Sterling Brown.
Still, most of the time, Tatum either defers to someone else or misses a tough or bad shot. After last season's explosion, the diminished role probably isn't helping him. But Tatum is still in the starting lineup and is still getting a good amount of touches.
If he can't complement Kyrie on offense by putting the ball in the hole, then there is a very bleak chance that the Celtics make a third straight appearance in the Eastern Conference Finals.
Chris Paul
With the Houston Rockets down 0-2 to the Golden State Warriors after the first two games, there shouldn't be much hope for a Houston victory. After taking Golden State to seven games last year, the Rockets might be lucky to draw this one out to six games, nevermind advance.
There really isn't a game plan to stop the Warriors. Some teams hope they miss, some teams just give up, but the Rockets try to outscore them — a very daring proposition. Obviously, James Harden, the league's top scorer by a wide margin, is their best chance to do that. But he can't score every time down the floor, and Paul needs to step up.
Before his injury at the end of Game 5 against the Warriors last season, Paul was spectacular in the Conference Finals. In a Game 4 victory on the road, he scored 27 points on 10-20 shooting and hit five threes. In a Game 5 win, he hit four of nine threes, carrying his team on a night in which Harden struggled.
So far in this series, in between arguing with the refs and getting ejected, Paul has taken just 23 shots in two games for 35 points. This isn't terrible, or even bad, but he needs to get more opportunities on offense. Harden, especially with his eye injury, cannot be given an isolation while everybody stares at him on every possession.
I don't know who has to decide that, whether it be Houston coach Mike D'Antoni, Paul or Harden himself — but Paul needs more chances to run the offense. If the Rockets go back to more of a balance between Harden and Paul instead of having the Beard dribble the air out of the ball, then I like their chances a lot more.