The Boston University women's basketball team (16-6, 11-0 Patriot League) was firing on all cylinders on Saturday afternoon's National Girls and Women in Sports Day game as they defeated Loyola University Maryland (7-15, 2-9 PL) 100-57 at Case Gym. The Terriers have now won 11 games in a row and remain perfect in the Patriot League.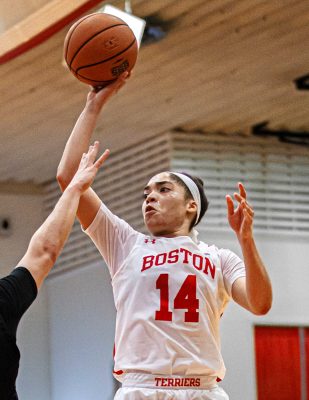 BU's offense played at a historical level, scoring 100 points for the first time since Feb. 13, 1987. The team also converted on a season-high and program-record-tying 16 3-pointers, shooting 50 percent from beyond the arc.
"We really worked the ball around well, we shot well, made the extra passes and it worked for us," senior guard Sydney Johnson said. 
The Georgia native paced all scorers with 20 points, shooting 8 for 12 from the field and connecting on a season-high four 3-pointers. Saturday was also the fourth time that Johnson has scored at least 20 points this year, with three of those efforts coming in her last four games.   
The Terriers started on time, going up 14-2 within the game's opening four minutes. The Greyhounds were unable to make a comeback, as BU led for the entire game. BU head coach Melissa Graves was impressed by her team's commitment to a full 40-minute performance. 
"I think today we really talked about [whether we could] put together four full quarters," Graves said. "Last time we played them we only won the first quarter." 
The Terriers put up 30 points in both the first and third quarters, shooting an unrelenting 75 percent during the latter. BU shot 60 percent on the day, their most efficient execution of the season, and rode their hot shooting to tie their largest margin of victory this year.
The game was only tied for 36 seconds, which were the game's first 36 seconds before either team scored.
BU frequently got to their offense early in the shot clock and played with a lot of energy inside, which helped set up open looks outside. The Terriers knocked down eight threes in the first half, frustrating the Greyhound's zone defense.
"BU's a really good team and so we're having a chance to compete at the highest level," Loyola head coach Danielle O'Banion said at halftime. 
Despite Loyola only scoring 27 first-half points, O'Banion didn't think offense was the main priority. 
"We need to get better on defense," she said. 
By halftime BU led by 26 points, and the Terriers never let the Greyhounds get close, outscoring Loyola by 13 in the third quarter. 
BU was dominant in transition, consistently outworking Loyola Maryland and beating them 25-9 in fast break points. The Terriers also took advantage of Greyhound mistakes, producing 27 points off turnovers compared to Loyola's nine. 
Sophomore forward Lex Therien led the Greyhounds in scoring with 14 points with two other Loyola players reaching double figures. The Terriers did an especially good job against graduate student guard Taleah Dixon, holding her to just five buckets from 18 shots. 
BU was helped by the return of junior forward Caitlin Weimar, who exited the team's last game against Lehigh University in the second quarter. Weimar provided 16 points and a team-leading nine rebounds. 
Weimar wasn't alone in her efforts. Sophomore guard Alex Giannaros and senior guard Maggie Pina combined for 37 points and eight three-pointers. Assistant coach Toccara Ross credited the team's work in practice to their offensive explosion. 
"Our practices are really focused on pace and space," Ross said.  "We drilled on that this week and they were attentive and they knew their stuff this week, so they were ready to go."
The Terriers have now won their last six matchups against the Greyhounds. With Colgate University's men's basketball team losing to American University, BU is now the only Patriot League team amongst both male and female squads that remains undefeated in conference play. 
The Terriers' next test will be against American University on Wednesday. Tip-off from Washington, D.C. is set for 11:30 a.m. and will be available to watch on ESPN+.
CORRECTION: An earlier version of this article featured the quote: "Our practices are really focused on space," Ross said. The correct version of the quote is: "Our practices are really focused on pace and space," Ross said.  The article has since been updated.