After winning their first two games of the 2023 season, the Boston University softball team split Friday's doubleheader against the University of South Florida and the University of Florida to wrap up a successful weekend.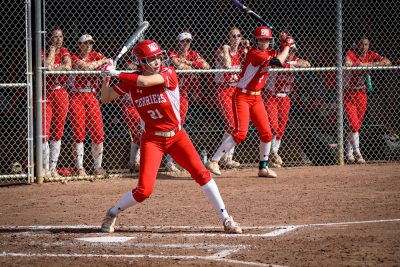 Game One vs South Florida
It was a tale of two games on day two of the USF-Rawlings Invitational in Tampa, Florida. In the opener, the Terriers (3-1) run-ruled the Bison (2-3) 8-0 after a near-perfect six innings from Terrier freshman pitcher Kasey Ricard in her first collegiate start. 
"I went in to the game a little nervous," Ricard said. "I just wanted to get the ball in my hand and be able to throw strikes." 
Ricard followed that strategy, adding eight strikeouts and avoiding walking a single batter. 
"I just try to get ahead of batters as best as I can," Ricard said. "I'm a rise ball pitcher, so I just got to get them to swing at anything."
Ricard needed just 82 pitches to finish the game and was one of three BU pitchers to record a win this weekend.
Going toe-to-toe with Ricard was USF's senior pitcher Gabriella Nori, who recently transferred from Lehigh University. Nori faced the Terriers nine times before, but Friday was a rough start to her Bison career.
BU left the bases loaded in the first, failing to jump on USF early. Failing to take advantage of opportunities had been a theme for the Terriers so far, leaving 20 players on base over their first three games. 
Junior shortstop and reigning Patriot League Player of the Year Kayla Roncin opened the scoring in the top of the third, crushing a fastball over the left field fence for her first home run of the season. Roncin went three for four at bat, leading all Terriers in hits.
Going into the fourth, BU still only had a 1-0 lead, but then everything started to click for the Terriers. After sophomore outfielder Tyesha Williams forced a walk to load the bases, junior outfielder Lauren Keleher was hit by a pitch to drive in run number two. Keleher was one of three BU batters who were impeded by a pitch during the game.
From there, Roncin singled to make it 3-0 before senior infielder Caitlin Coker lined a bases-clearing triple to put the game out of reach. BU head coach Ashley Waters talked about her team's wise approach in the fourth.
"[The team] just [swung] at good pitches," Waters said. "When the end of the order gets on, they're just setting up our best hitters to have a moment." 
Coker's clutch hit forced Nori's exit. The starter survived just 3.2 innings while giving up seven hits and six earned runs. She threw just under 100 pitches while recording just 11 outs.
BU tacked on two more runs in the sixth courtesy of a single from graduate student outfielder and pitcher Emily Gant. Since the Terriers were up by eight runs, the game ended after the sixth inning. 
Game Two vs Florida
While the Terriers were dominant against one Florida team, the script was flipped against the Gators. 
After a scoreless BU first, Florida drew first blood with a double by graduate student infielder Charla Echols. The Terriers were able to respond in the top of the second after junior infielder Lauren Nett reached on a fielder's choice, allowing Gant to score. The run was deemed unearned due to an error earlier in the inning.
Senior starting pitcher Allison Boaz gave up two more runs in the second and was promptly replaced by fellow senior pitcher Lizzy Avery. 
Avery allowed the next three batters to reach base, making it 4-1. Gant, who tied the game just a half inning prior, misplaced a high fly ball off the bat of sophomore infielder Reagan Walsh. Florida put two more runs on the board and seized control. 
Florida's sophomore catcher Sam Roe singled to bring home two more, and the seven-run second inning proved to be all that the Gators needed to secure the win. 
BU utilized all three of their pitchers, with Ricard, who just pitched six innings against USF, adding 1.1 innings and allowing 3 runs.
Keleher singled home junior infielder Kate Pryor during BU's fifth and final inning at the plate to make the final score 11-2. Those were the only two runs Florida allowed all weekend, defeating Boston College 9-0 and then Illinois State 21-0. 
Despite the loss, the players were pleased about the weekend and were happy to get exposure against an elite program. 
"Being able to face tough competition like Florida early in the season is really going to help us build up to be able to get to a regional," Ricard said. 
The Terriers continue their non-conference invitationals as they head to Charleston, South Carolina, where they'll battle the University of Charleston, Tennessee Tech University and Canisius College. The first game of the weekend will be against TTU on Feb. 17 at 10 a.m.