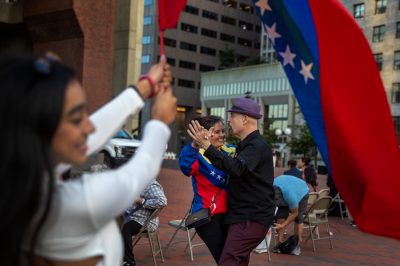 Mayor Michelle Wu and the City's Latinx Employee Resource Group kicked off the City's celebration of National Latinx Heritage Month with a party at City Hall Plaza on Tuesday evening. 
The celebration featured a vibrant tapestry of performances that spanned dance, singing and martial arts. The festivities began with music from DJ Gonzalo Jimenez, followed by mariachi band Mariachi Guadalajara which performed some of their most famous music. 
"We live in one world," said Juan Munguia, owner of Mariachi Guadalajara. "It doesn't matter where you are from, we can enjoy … everybody's music." 
Other performances included Colombian dances from the Bojucol Dance Company, Brazilian dances from SambaViva and a martial arts show from the East Coast School of Combined Martial Arts. 
City Councilor At-Large Julia Mejia shared her enthusiasm for the event as the first Latina ever elected to Boston's City Council. She spoke of her plans to establish an office for Latinx affairs for the city. 
"I feel like I have a sense of responsibility making sure that I am pushing for legislation that is going to help my people feel seen and heard," Mejia said.  
Mejia also noted the increased presence of vendors from different organizations compared to events in previous years. 
"It's a beautiful thing to see so many people from different parts of the world, all Latinos here celebrating," Meija said.
Monica Salcedo, the director of EHR Boston Communities, attended the celebration and said the significance of the event's location was that everyday Boston residents could experience Latinx culture. 
"This is a good opportunity to [get to] know each other," Salcedo said. "All these organizations that you see here are coming from Latin communities. So, it's good that we are here just in the heart of Boston."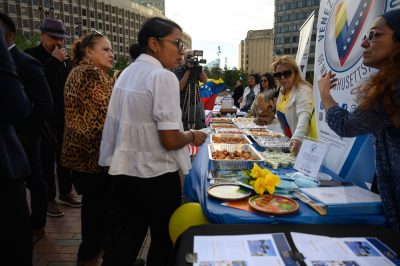 The event drew attendees from various Latin communities in the area, seeking to immerse themselves in different aspects of their culture. 
"I haven't really experienced [Latin culture and representation] within the communities that I've been a part of," said Esmeralda Gonzalez, a student from the University of Massachusetts Boston. "I thought it'd be really cool to come out and just experience everyone's different backgrounds and food." 
Camila Páez, who is also a student at UMass Boston, said the event provided her with a sense of home she'd missed since coming to Boston for school.
"I came here to study at UMass Boston, and since then I haven't had that sense of home," Páez said. "Just coming here, it feels nice to have your people around you."
More celebration opportunities in Boston will continue throughout Latinx Heritage Month, which runs annually from Sept. 15 to Oct. 15.