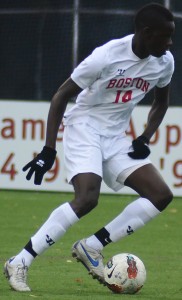 Boasting a strong group of veteran leaders and a talented new class of players, the Boston University men's soccer team will look to rebound from a disappointing inaugural season in the Patriot League that was bogged down by injuries and inconsistent play.
"I just think we need to stay healthy. It's that simple," said BU coach Neil Roberts. "We got some good players, and we have a good team. We just have to make sure that they stay on the field."
The Terriers (2-0) return to Nickerson Field this year with just six seniors and the infusion of thirteen talented freshmen.
Some of BU's most notable newcomers this season include defenders Shane Staudle from Redondo Beach, California and Bjarki Benediktsson from Hafnarfjordur, Iceland, as well as midfielder Adam Sheikali from Peachtree City, Georgia.
"The freshman class is very good," Roberts said. "Three of them played on Friday night. Bjarki is a very good player, and Adam Sheikali is good too, and they play different positions. We're very happy with the freshman class."
Benediktsson – a three-time national champion with the FH Club U-19 team in Iceland – has been a constant presence on the pitch this season, playing in all 190 minutes over the first two matches of the year.
Sheikali, a winner of two All-State First Team awards along with Georgia Gatorade Player of the Year honors during his senior year at McIntosh High School, has played in 41 minutes this season as a substitute.
The most impressive resume may belong to Staudle, who has had success follow him every step of his high school career. He won Southern California State title with Redondo Union High School as a freshman, received All-State and Regional awards in his junior year and helped lead his team to a third-overall national ranking during his senior campaign.
Even though the freshmen will play a crucial role in sustaining success for the Terriers, the bulk of the workload will rest on the team's returning players.
The most notable veteran for the Terriers is senior forward Dominique Badji, who was named to the Patriot League All-Conference Second Team last season after leading the club with six goals.
An experienced core led by Badji, senior midfielder Jordan Barker, senior defender Kelvin Madzongwe and junior defender Jeroen Blugh should give BU a big boost this year both on offense and defense.
"Kelvin and Jeroen are going to be healthy, and you're going to see completely different players out there than you're used to seeing because of their health," Roberts said. "Dominique Badji and [sophomore forward] Felix De Bona up front are going to be a very good combination."
Baker was second on the team in assists last year with four, only trailing now-departed midfielder Anthony Ciccone who distributed seven assists on the year.
Madzongwe, however, had a very different path to get to this current season. After earning the America East Defender of the Year award and All-Conference First Team honors during his sophomore year in 2011, Madzongwe has spent the majority of the past two seasons sidelined with injuries.
In 2012, he sustained a season-ending injury after playing in just three games, leading him to opt for a medical redshirt. The injury bug continued to haunt the Magwegwe, Zimbabwe native in 2013, as Madzongwe only played in eight games. Madzongwe's health is critical for the Terriers moving forward as he provides a defensive safeguard when the opponents threaten to score.
When it comes to keeping opponents off the scoreboard, sophomore goalkeeper Matt Gilbert showed his worth in 2013, finishing second in the Patriot League with 4.47 saves per game on a season that also included six shutouts.
Despite Gilbert's performance last season, senior goalkeeper Nick Thomson has looked very impressive so far in 2014, recording two shutouts to kick off the season.
"It's going to be a battle for who's number one," Roberts said.
Thomson was a full-time starter in his freshman and sophomore year, earning a spot on the America East All-Rookie team his freshman year before only playing in three games in 2013.
"Nick came in a little sharper and probably played at a little higher of a level this summer," Roberts said. "[He] was hurt last year and was recovering from surgery and came in this year and performed well, so he's the first one in that spot."
Even though the goal situation will be one to watch this upcoming season, the real battle will be with the team's ability to avoid major injuries. Although the team may have some players go down, Roberts believes that the depth of his squad will keep the Terriers afloat.
"Just because of the injury factor – that all these guys are healthy now and have played with injuries – it shows how well the guys are moving," Roberts said. "We have a deeper team this year that will be able to withstand some injury situations."