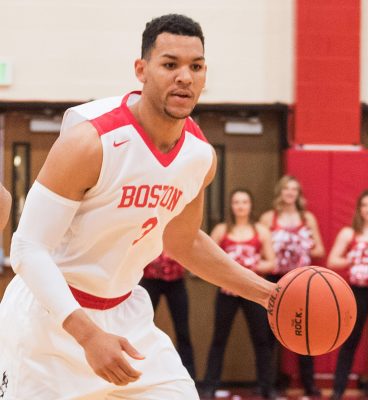 Boston University men's basketball team had an opportunity to tie for first place in the Patriot League Sunday afternoon, but it failed to capitalize in a 86-66 loss to Bucknell University.
There were many issues for the Terriers (16-12, 11-5 Patriot League) on Senior Day, however, the most glaring came in the form of making shots. Overall, BU shot 40 percent from the field and 25 percent from the 3-point range, even though that number is higher than the level played at due to some low resistance buckets in the waning minutes.
Bucknell's (21-8, 13-3 Patriot League) stifling defense was spearheaded by junior center Nana Foulland, who had an astounding six blocks that afternoon and affected many more shots than just those six.
"They were the aggressor, they played well," said BU head coach Joe Jones. "They shot it well, they defended hard. Nana was a big factor in the game, his ability to change shots at the rim. They got nine blocks that really hadn't happened to us all year and that changed the game because we had some ones that we usually make and he blocked it."
Possibly the person most affected by this was senior forward Justin Alston. Celebrating his last regular season home game as a Terrier, Alston mustered only six points and two rebounds.
In his previous three games, the Washington D.C. native averaged 19 points and five rebounds a game en route to a Patriot League Player of the Week award. In the Terriers' first matchup against Bucknell in late January, Alston led the team with 20 points, exhibiting many of the characteristics that have made his senior campaign successful.
Alston was not able to replicate this performance this time against Bucknell, and his team suffered as a result.
"You have to give credit to Bucknell," Jones said. "They made it hard to finish. Justin rushed himself at the rim, [Foulland] is a good shot blocker so he blocked some stuff at the rim. The first game Justin was able to score on him and this time around he did a good job of bothering him. Justin has got to take his time in there. Overall, they defended us pretty well."
As Alston was not able to get himself going, senior guard Eric Fanning had eight points, below his average of 15 points on the season. Fanning only played six minutes in the second half, something Jones attributes to the way Fanning was playing.
"I wasn't happy with [Fanning], and it's a coaching decision, but I just wasn't happy with his effort. He's got to put in more effort than that," Jones said.
Bucknell has a constricting defense, ranking third in the Patriot League in field goal percentage defense, and fifth in 3-point field goal percentage defense. BU was never able to get themselves going in the second half, as they had shown spurts of success in the first half.
With 4:36 remaining in the first half, junior guard Cedric Hankerson connected on a 3-pointer to knock down the Bison lead to two. From there, Bucknell went on a 9-4 run to establish a seven point halftime lead. After Bucknell came out of the break on fire, the Terriers never stood a chance, at one point failing to score a field goal for 11 minutes in the second half.
Going into the final two games of their regular season, the Terriers will have to adjust their offense in similar situations.
"We did not do a great job of executing," Jones said. "When we got some good shots they were able to change them. Usually we're able to get the ball into Justin and finish against people. When that didn't happen it was almost like, 'Whoa, what do we do now.' We struggled to manufacture good offense. I actually thought we got some good stuff around the rim that we either missed or they blocked, honestly."