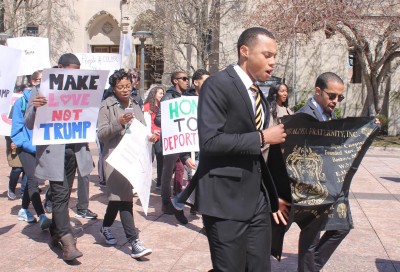 Boston University students marched in a peaceful protest from Marsh Plaza to the Massachusetts State House Saturday to express their disapproval of Republican presidential candidate Donald Trump's campaign.
Beginning at 11 a.m., approximately 25 students and members of the Sigma Chapter of Alpha Phi Alpha Fraternity participated in the rally at Marsh Plaza and the subsequent march. The fraternity, stationed in Boston, includes other higher education institutions in Greater Boston. According to its website, the fraternity was initially founded for African-American men and now serves to provide a voice for people of color.
The Sigma Chapter of Alpha has held peaceful marches for the past two years, and this year its members chose to march to protest Trump's ideals, Alpha's President Yassine El Yousfi explained.
"There have been plenty of videos of [Trump's] rallies making headlines for the hatred, the paranoia and hysteria that a lot of his rhetoric, values and policies show," said El Yousfi, a senior in the College of Engineering, before the march. "After realizing he had won the state of Massachusetts, [Alpha] really wanted to voice out against some of the things that he stands for, and to raise awareness."
At the steps of Marsh Chapel, students gathered to take pictures of signs that were made in the days leading up to the march. Some of the signs read, "Let's build a wall around Trump," "People of color make America great" and "Free speech, not hate speech."
Before leaving Marsh Plaza, El Yousfi invited David Price, a second-year student in the Harvard Divinity School, to give a keynote address to those in attendance. Price said citizens in the United States need to stand in solidarity with one another to show that the country should be open to fighting for citizens' freedom, justice and equality.
"As we march through the streets of Boston, we are going to declare to the world, to our community, that we will not stand and allow one man to send our country down a highway to hell," Price said in his speech. "Together, we stand in love and solidarity with one another, showing to the world and projecting the goodness that lies in our hearts to make our America great again."
The march continued along Commonwealth Avenue, Newbury Street and stopped at the State House, El Yousfi wrote in a follow-up email. Many passersby, including working professionals and high school students, stopped where they were going, chanted with the crowd and marched along with them, El Yousfi added.
"This is why we march, and that in itself made it worth for me," El Yousfi wrote. "We need to continue this conversation in the classroom, workplace and the homes in order to increase awareness."
Several students who attended "The March Against Trump" said they participated because of their desire to stand against the candidate.
Dev Blair, a freshman in the College of Fine Arts, said he found out about the march on Facebook and was glad he could show his support in a very public way.
"For me, it is very much expressing my political beliefs," he said. "I'm very much a social media activist … and now I have a physical action to show my support for."
Ashlie Bermudez, a freshman in the College of Arts and Sciences, said Trump's ideals are not presidential.
"It's very important to stand against … the bad things he promotes because there are a lot of things that he promotes that are really terrible, like violence and racism," Bermudez said. "It's very important to show people that these things are not OK, and these are things we should not have in a candidate."
Elena Toppo, a sophomore in CFA, said she has had the feeling of constant hatred around her, and that she has no control over anything, but she said participating in the peaceful march was a step in the right direction.
"It just takes one person to make a revolution, and we can't say that it's tomorrow or else nothing will get done," she said. "I had this moment the other day that was like, 'I can start a revolution right now,' and seeing [this march], this is something that I can actively do to lessen the feeling of everything being outside of my control."