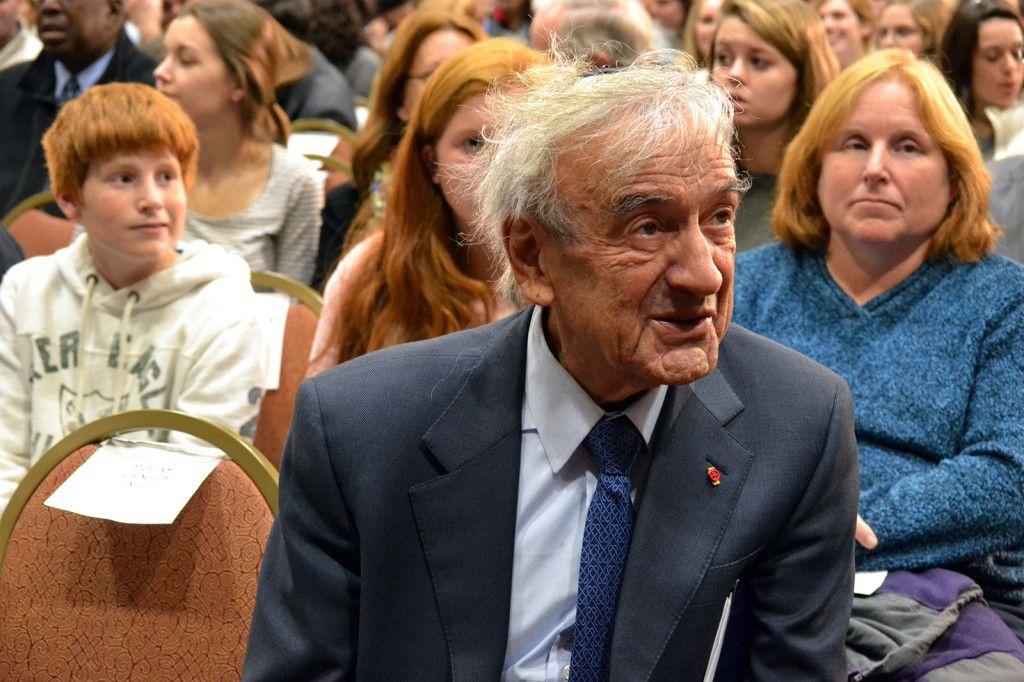 Elie Wiesel, the Nobel Peace Prize-winning author and Holocaust survivor who taught at Boston University for nearly 40 years, died Saturday at the age of 87.
Israel's Yad Vashem Holocaust Memorial announced his death Saturday.
"Elie, a master of words, gave expression to the victory of the human spirit over cruelty and evil with his unusual personality and captivating stories. In the darkness of the Holocaust when our brothers and sisters perished — the six million — Elie Wiesel served as a ray of light and an example of humanity that believes in the goodness of man," Israeli Prime Minister Benjamin Netanyahu said in a statement.
Over his lifetime, Wiesel published over 40 books, the most renowned being "Night," which Wiesel wrote 10 years after World War II —  a time when few were speaking of the atrocities that occurred under the Nazi regime.
"Night," written as a memoir of his time spent in several Nazi concentration camps, including Auschwitz and Buchenwald, has been translated into 30 languages and sold millions of copies worldwide.
Other award-winning works written by Wiesel include "A Beggar in Jerusalem," "The Testament" and "The Fifth Son." When Wiesel received the Nobel Peace Prize in 1986, the Nobel committee called him an important spiritual leader.
Wiesel began teaching at BU in 1976, when he became the Andrew W. Mellon Professor in the Humanities until his retirement in 2013. 
"In his life of teaching and service [Wiesel] bore necessary witness to the reality of evil, but also offered compelling testimony to the possibility of compassionate and generous understanding across the seeming boundaries of difference," BU President Robert Brown wrote in an email to the BU community Sunday.
Wiesel's impact on the university expands beyond the classroom; the university's Center for Jewish Studies is named after him.
"We are saddened by the passing of Professor Elie Wiesel. He was a colleague, a teacher and a friend to us. May his memory be for a blessing," the center wrote in a tweet Saturday. "… His students loved him. We will miss him."
In an email statement sent to The Daily Free Press, Michael Zank, the director of the Elie Wiesel Center for Jewish Studies at BU, said he was "heartbroken at his passing."
"Boston University is losing an iconic teacher who brought an incredible intensity to every encounter with students and colleagues," Zank wrote.
Wiesel taught religion and philosophy courses at BU. He left an unbelievable mark on his students, Zank told The Boston Globe.
"He was an extraordinarily attentive listener. In his courses, he dazzled students not as a lecturer but as a listener. When Elie Wiesel wanted to know what you thought you knew, you had to think hard and say something worth saying," Zank said in a phone interview with the Globe.
In both 2013 and 2014, Wiesel's annual lecture at BU was cancelled due to health complications, The Daily Free Press reported.
The Howard Gotlieb Archival Research Center is home to many archives from Wiesel, including manuscripts, notebooks and other writing materials. A special exhibition called  "Champion for Human Rights: The Life & Work of Elie Wiesel" opened last fall, The Daily Free Press reported in September.
In a statement, Ronald Lauder, a member of the World Jewish Congress, said the world has "lost the most articulate witness to history's greatest crime."
"With his passing, we will all have to work a little harder because we will no longer have Elie to remind us of what happens when the world is silent and indifferent to evil," Lauder said. "It is now our job, and that of our children and grandchildren, to pick up the baton and to relay Elie's message of hope and peace to the world."
BU's HGARC website features a quote from Wiesel: "We must take sides. Neutrality helps the oppressor, never the victim. Silence encourages the tormentor, never the tormented."