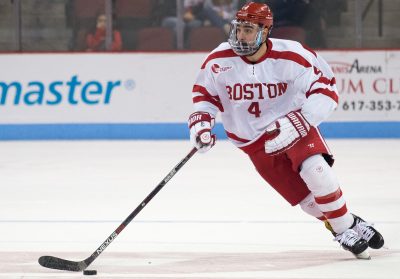 With a season-opening win in their pocket and a shortened week of classes wrapped up, the Rocky Mountains beckon.
For the first time since 2012, the No. 2 Boston University men's hockey team will take on No. 10 University of Denver in the regular season away from home, with games set for Friday and Saturday evenings. The programs carry with them a combined 12 NCAA titles — seven from Denver and five from BU — altogether offering head coach David Quinn an ideal evaluation.
"We're going to play at a different pace, we're going to have to play with a little different edge, we're going to have to play with more awareness, so there's going to be new challenges over the weekend that we haven't seen before," Quinn said. " … They're excited for the opportunity to play a great team, and we're going to know an awful lot more about our team come Saturday night than we do today."
Those chords were echoed by junior defenseman Brandon Hickey, who stressed that BU (1-0) will have to face tough opponents like Denver (0-2) throughout the year if the team hopes to achieve its lofty goals in 2016-17.
"It'll show us what we have to accomplish to win the games we want to down the stretch," Hickey said. "We're going to have to play against a lot of top-10 teams if we want to accomplish what we want to accomplish this year. It gets the freshmen into games that mean something and they're not going to be in a Colgate [University] kind of game."
As Hickey alluded to, the Terriers kicked off their campaign with relative ease this past weekend, knocking off Colgate, 6-1, in Hamilton, New York. Notable storylines included freshman goaltender Jake Oettinger's 29 saves, freshman forward Patrick Harper's two-goal evening and the fact all four lines lit the lamp.
Despite those performances, Quinn cautioned that his Terriers still have much to work on, especially against the team that "kicked our ass" in the opening round of last year's NCAA Tournament. The final scoreline was 7-2 in favor of the Pioneers, a result Hickey said still leaves a bitter taste and will offer extra motivation this weekend in Magness Arena.
Past results aside, BU still views itself as a work in progress.
"I'd like to get more scoring chances," Quinn said. "I think we need to reward ourselves for offensive zone time. I don't think we're getting to the net enough, enough pucks to the net. I thought our net-front play in general wasn't what it needed to be defensively, but that being said, there's a lot to like about where our game is at this early in the season."
Conversely, Jim Montgomery, Denver's head coach, is surely hoping the tide soon turns for his squad. Their season kicked off with back-to-back losses in the Ice Breaker Tournament to No. 19 Ohio State University and No. 6 Boston College, respectively. Making matters even worse, their star forward, Dylan Gambrell, will miss the next four to six weeks with an upper body injury.
Even with the goaltending duo of Tanner Jaillet and Evan Cowley, Hickey stressed that Denver will be a desperate hockey team. Freshman forward Kieffer Bellows, who said the higher altitude could also factor in, urged Denver's struggles shouldn't change BU's approach.
"We know they're 0-2, but we have to go into that game thinking they're 2-0," Bellows said. "They're going to bring it to us just like every other team. We have a target on our back this year and we have to bring it all the time. Since they're down 0-2, we can tell they're going to bring it even harder."
Possibly matching that intensity could be two Terriers who were previously sidelined by injury in sophomore forward Ryan Cloonan and junior forward Chase Phelps. Quinn said both are "available" this weekend, but shied away from revealing whether or not they'll see ice time.
Whoever plays, the Terriers are chomping at the bit to prove themselves yet again. They moved up two spots this week in the national rankings, and this Denver trip presents the chance to show the hype is justified.
"We're really excited," Hickey said. "It's nice to get these cool road trips out of the way early, get the team gelled. On that five-hour bus ride to Colgate, everyone's joking around in the back of the bus, so it's pretty cool to see the camaraderie. We're all pretty excited to get going here."