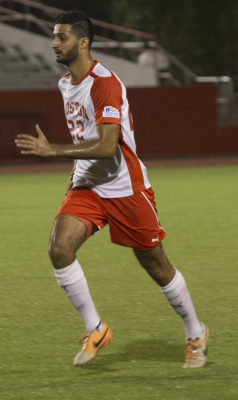 Coming off a 1-0 shutout win over the United States Naval Academy on Senior Day — where 10 Terrier seniors were celebrated — the Boston University men's soccer team will travel to West Point, New York to take on the United States Military Academy.
The Terriers (6-7-2, 5-1 Patriot League) have been impressive in Patriot League play this year and are tied atop the conference standings with Loyola University Maryland.
"It's a good group of kids that's really worked hard for us over the last four years," BU head coach Neil Roberts said of his seniors. "In training and in games, on the field and off the field, to help make the program better. Whenever you've got a group of guys that are graduating, for as long as I've been doing this, it's still somewhat sad and somewhat happy."
Underclassmen have been the major storyline of the team this season, with sophomore forward Matt McDonnell leading the team with four goals and freshman midfielder Toti Knutsson just behind him with three.
Roberts has high praise for his underclassmen, who have been thrust into the spotlight.
"It's been a lot of new faces, it's been good to see," Roberts said. "Toti's really done a good job for us this year. He's a mature player and hard working. He's a pleasure to have."
The Black Knights (8-5-1, 2-3-1 Patriot League) boast the Patriot League's best defense, conceding only nine goals and allowing only 110 shots.
Instrumental to their defensive success is their man between the posts. Army's sophomore goalkeeper Justin Stoll holds the league's best goals against average at .622, along with a goal save percentage in the top five at .769.
The Black Knights pose a clear threat to Roberts' team and this remains something he acknowledges.
"We'll try to eliminate their strengths and attack their weaknesses," Roberts said. "They're a very good team. I looked at them as probably one of the top three teams coming into this season, between Loyola, Lehigh and themselves. It'll definitely be a difficult challenge for sure."
BU's sophomore goalkeeper Michael Bernardi will have to be alert against Army — who have registered over 200 shots this season. Bernardi boasts a 1.15 goals against average this season over his nine appearances and a .737 goal save percentage.
Roberts will be relying on his keeper to stifle the Black Knights' offense that fires at will.
"Hopefully we can keep their shots limited and when called upon Michael can make that big save to keep us in the game or keep it 1-0 or whatever it may be … We're going to need Michael if we're going to be successful and get one of the top two spots in the conference," Roberts said. "Our goalkeepers are going to have to win us a game here and there and make some saves."
BU is 4-1-1 in their last six games and lead the all-time series with Army 6-2-1.
BU has had to deal with their fair share of injuries this year, but heading towards Patriot League Tournament play, one thing Roberts has preached and will continue to preach is consistency, especially for a unit that has had to deal with injuries from before the start of the season.
"The consistency is important for us, it's been very difficult and I think this is what's been the most impressive with this team, that it's been very difficult, but it's even more difficult to have consistency with changing parts," Roberts said. "I think this group, where we've plugged kids in, in the Navy game and pretty much every game it's been different people."