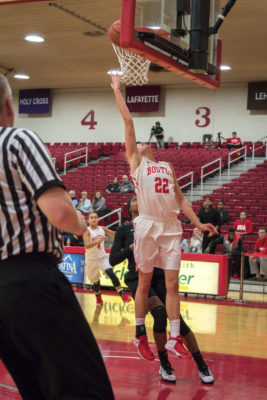 The Boston University women's basketball team will look to continue its winning ways on Sunday afternoon when it takes on the University of Vermont in Patrick Gymnasium.
The Terriers (4-2) are coming off of a dominant performance against Bryant University on Wednesday night, in which the bench scored 71 percent of the team's points en route to their 78-61 victory.
One of those substitute players, sophomore forward Nia Irving, scored all 16 of her points in the first half. The Fairfield, Maine native went 8-8 shooting and collected 7 rebounds over the first half.
Other players off the bench included freshman guard Tenisha Pressley, who scored a career-high 15 points, and sophomore guard Vanessa Edgehill, who set a season-high of 11 points with four buckets of her own.
The Terriers especially controlled the second half, opening the third quarter by converting nine of their first 11 shot attempts. Junior forward Naiyah Thompson scored 12 points, while senior center Sophie Beaudry contributed eight points and three blocks in what was an overall team effort.
"We've had a lot of of success with our starters in the first few games," BU head coach Katy Steding said. "Other people came in and stepped up. I thought Nia Irving gave us a real spark off the bench. She does more than score, and I think that set the tone for everybody else coming off the bench. I think they're just building their confidence. The more we can spread the minutes out … we're going to be that much more difficult to beat."
Steding also mentioned the important role freshman guard Katie Nelson has played so far. Nelson was recently named back-to-back Patriot League Rookie of the Week for her performances against the University of Delaware, Harvard University and Boston College, in which she put up 25, 19 and 19 points respectively.
"[Nelson] has that charisma and leadership that people want to play with," Steding said. "I think people just trust her and know that she's going to outwork everybody on the team in the first place, and there's really no resistance to it."
Wednesday's matchup was the Terriers' best shooting game so far, as they posted a .517 scoring percentage. The team will look to continue its recent offensive successes against Vermont (2-5).
The Catamounts have lost their last three games and will face off against Rider University on Friday before welcoming BU on Sunday.
Vermont is led by reigning America East Player of the Week sophomore forward Hanna Crymble, who scored 23 points and collected four rebounds as part of a losing effort to James Madison University last Saturday.
Crymble leads the team with 17.4 points a game, while her teammate junior forward Cassidy Derda follows with 9.1.
The Catamounts' head coach Chris Day is in his second season at the helm, and this weekend's matchup will be the Terriers' first time playing against his squad.
"They've had some really good, close games," Steding said, regarding her team's upcoming opponent. "They're very talented, especially inside … they've played some tough teams in their schedule too."
BU's season has certainly gotten off to a good start. The Terriers have gone 4-2 for the first time since 2007-08, a season in which they finished 20-12 overall.
Steding attributes this start to her team's focus and leadership.
"We always try to take it game by game … Corrine Williams and Sophie Beaudry as captains have been really phenomenal," Steding said. "They provide scoring when they need to, they provide guidance when they're not scoring. Their ability to provide that steady presence with the rest of the team has been one of the chief reasons why we've experienced some early success this year."
BU hopes to remain focused and win a third consecutive game on Sunday, as it inches closer and closer to the start of conference play.
"I think we have an opportunity to go and compete against a really talented team on their home court," Steding said. "We have a lot of road games this fall, and I think that'll help us as we get into the Patriot League."