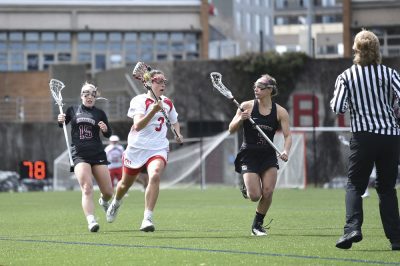 The Boston University women's lacrosse team will look to begin the Patriot League tournament on a winning note when it takes on Colgate University in the quarterfinal matchup Tuesday afternoon in Hamilton, New York.
The Terriers (9-7, 5-4 Patriot League) are preparing for their fifth straight tournament appearance.
Following a six-game winning streak, BU ended its 2018 regular season with a 23-6 loss to No. 11 United States Naval Academy on Saturday.
Despite the loss, BU head coach Liz Robertshaw said her team is ready to rebound.
"I just think we have to focus on what we're doing next," Robertshaw said. "We need to look forward to the fact that we've earned a spot in the Patriot League tournament and that we want to make it to that championship weekend."
The No. 5 seeded Terriers have steadily climbed the ranks in both offense and defense over the course of the season. They enter the tournament fourth in goals per game with 12.06 and third in assists with 6.13 per game.
A large part of BU's offensive success toward the end of the regular season has come from freshman attack Ava Barry. The Lake Grove, New York native has found the back of the net in seven consecutive contests and has had three four-point performances during that span.
While the Terriers struggled on offense against Navy (14-3, 8-1 Patriot League), only converting six times on 20 shots, Robertshaw remains confident that her team can wipe the slate clean and return to its true form.
"If we focus on what we're going to do versus what we have done, I think we're going to be in a really good spot," Robertshaw said.
No. 4 seeded Colgate (10-6, 5-4 Patriot League) will provide a challenge for the Terriers despite only being one seed higher.
The Raiders are coming off a 13-12 overtime victory against Lafayette College, and earlier this season, Colgate defeated BU 12-8.
Seniors attack Kristen Brigagliano and midfielder Haley O'Hanlon each scored four times for the Raiders, while Terrier sophomore attack Kailey Conry led the BU offense with a hat trick and an assist during the earlier regular season matchup.
The stat lines were almost identical for both teams, as they were even in shots on goal and turnovers.
However, Colgate led in draw controls 12-9 — allowing the Raiders to generate more offensive momentum and get off more shots than BU.
"We recognized that we had a good defensive game against Colgate," Robertshaw said of the Terriers' last meeting with the Raiders. "Offensively, I don't think we were as strong as we wanted to be. We weren't shooting particularly well and their goaltender had a really good day."
On defense, senior defender and co-captain Maria Guerra leads the team in caused turnovers with 28 and is second in the league with 1.75 per game. Against Navy, she notched two caused turnovers and collected two ground balls as well.
Robertshaw noted that her team will need good one-on-one defense going up against the Raiders.
"[Colgate] has got some really good strong attackers," Robertshaw said. "Our team defense will have to protect [senior goalkeeper] Christine Laible in cage. We really need to pay attention to where we're forcing their attackers and limiting their leading scorers' touches."
Colgate's sophomore goalkeeper Samantha Croston currently owns a .485 goal save percentage and a 10.39 goals against average over 16 games this season.
O'Hanlon currently leads the Raiders with 41 goals and 55 points. She is eighth in the league with 2.56 goals per game, and fourth, two spots behind Guerra, in caused turnovers, with 1.56.
Overall, BU is 6-5 against Colgate, but 2-3 in Patriot League matchups.
This matchup will also mark the first time the Terriers and the Raiders have met in the postseason.
"We just want to do a better job of paying attention to what we can control — our effort, our energy, our hustle, our shooting," Robertshaw said. "And I think if we can do that, we're going to have a good day."
Shubhankar Arun contributed to the reporting of this article.