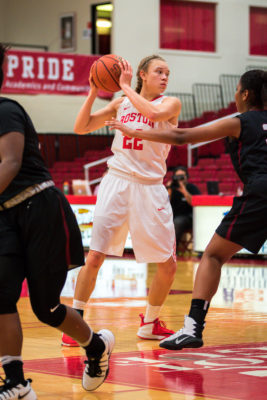 The Boston University women's basketball team is in the midst of a three-game winning streak and will look to continue their winning ways Saturday, when the Terriers (5-2) return to Case Gym to take on Marist College on Alumni Day.
The Red Foxes (1-7) have gotten off to a slow start this season, and entered their Wednesday matchup against the University of Rhode Island having lost six in a row, with their last win coming Nov. 14.
The Red Foxes' 60-51 loss to Dartmouth College last Saturday marked the third time this season in which Marist has given up the lead and lost in the final 10 minutes. Prior to Wednesday, the Red Foxes had been outscored by their opponents in the final frame by 4.6 points.
BU seems to be heading in the opposite direction, as the team has been building more and more momentum as it approaches conference play.
"Marist is a terrific three-point shooting team, and they are very well coached in a read-and-react style offense — very high IQ players," BU head coach Katy Steding said regarding her team's upcoming opponent. "We need a really strong effort contesting their shooters, and we need to get off to a good start in transition."
The Terriers' last matchup came last Saturday, in which they handed a 57-41 loss to the University of Vermont. Sophomore forward Nia Irving posted a double-double, with 19 points and 14 rebounds. Freshman guard Katie Nelson followed close behind with 12 points of her own, along with six assists.
The double-double was the fourth of Irving's career, and her second so far this season. She is second on the team in scoring with 10.3 ppg, while Nelson leads with 13.7.
The Terriers will have to watch out for sophomore guard Rebekah Hand, who was last year's Metro Atlantic Athletic Conference Rookie of the Year. Heading into Wednesday, she leads the team with 15.9 ppg and 44 rebounds.
Hand missed Marist's game against Dartmouth (6-1) after injuring her leg in the team's loss to Seton Hall University on Nov. 30. Her appearance in games will be questionable heading into this week.
In last year's matchup against BU, Hand led the Red Foxes to a 76-57 win, scoring 17 points.
Steding said she hopes to shut down her offense early on and limit her scoring chances.
"We will have some wrinkles to throw at their team, regarding Hand," Steding said. "She's a great player who shoots the heck out of it. We just have to know where she is. And when we get switched in transition, everyone must know their personnel and tendencies."
Hand's sister, and fellow sophomore guard Hannah Hand, has also missed some games due to an ankle injury she suffered early in the season.
Redshirt sophomore forward Alana Gilmer is second on the team in scoring, averaging 11.9 points a game. In the loss to Dartmouth, she went 8-18 from the field during her 20-point game.   
BU has struggled in recent years against the Red Foxes, having lost in each of their last four meetings. However, Steding is confident in her team's ability to change things around on Saturday.
Co-captains senior guard Corrine Williams and senior center Sophie Beaudry have played well on the court thus far. They contributed to the win against Vermont with seven and nine points, respectively. Their teammates will look to them to lead the team to a fourth straight win Saturday.
"Sophie and Corrine have done an amazing job of offering steady and consistent leadership and communication," Steding said. "I feel like the team has really bought into them as leaders because they are so mature and even. They bring balance and toughness and we've rallied behind that for a year and a half now."