Ryan Kwan dreamt of rows of food lined up in a market in the heart of Boston, similar to that of street vendor markets in Asia. For six years, he carried this vision with his friends.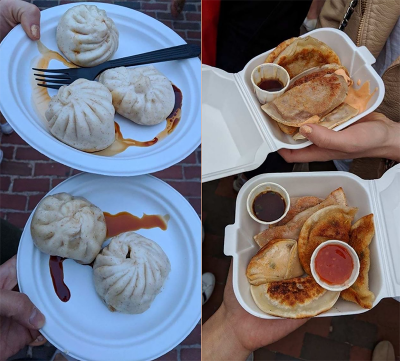 On Saturday night in City Hall Plaza, their vision came to fruition as foodies from all walks of Boston slurped steaming bowls of ramen and waited in line for marinara-soaked pizza cones and fried oysters. Under rows of string lights, Lord Hobo Brewing Co.'s beer garden bustled with cornhole players while nearby couples posed for photos by glowing trees.
The inaugural year of the Boston Night Market, organized by Ho-Sik Group LLC, of which Kwan is a co-founder, had finally become a reality.
"Last year, we all got together and we decided to finally do it," Kwan said. "We really tried to make this event reflective of Boston. Boston's a very diverse city, [so] we had more than just Asian food at the event."
Kwan said he and his all Asian-American team at Ho-Sik Group used their experiences traveling to authentic Asian night markets to create the template for their own event in Boston. According to Kwan, their goal was to create a "bustling nighttime atmosphere with a lot of different things you can do."
Asian-inspired night markets are not a new idea. Kwan explained that people have successfully incorporated the concept on the West Coast and Canada.
Darren Nguyen, a Muji employee who staffed the Japanese retail company's tent, said that the Night Market reminded him of some of the Asian-inspired markets that have recently sprung up in California.
At the tent, Nguyen and his colleagues unwrapped and sliced up samples of baumkuchen cakes, a popular dessert in Japan. Nguyen said that at their store on Newbury Street, Muji stocks lots of flavors of the spongy cakes, including baked apple, sweet potato and banana. Samples disappeared fast, as some patrons doubled back to try every flavor.  
"It's a really cool experience for me to be here," Nguyen said. "I'm mostly excited to let people know more about Muji because I feel like people didn't know about it."
Eating quesadillas, dumplings and fried scallops on a stick, attendees swarmed the Boston Night Market and snapped Instagram shots of their plates. They scarfed down cold beet salad from Honeygrow, greasy rice-bun burgers from the Rice Burg food truck and thick-skinned chicken dumplings from Tom's BaoBao.
Ryan Perkins, the Pokéworks district manager for Boston and Providence, passed out sample-size cups of fresh ahi tuna and shiso salmon poke at the restaurant's tent.
Pokéworks, a franchise which Perkins said is looking to expand into Boston proper in the next six months, saw the Night Market as an opportunity to get people excited about their food. The menu features classic poke bowls, as well as poke salads and poke burritos.
"We kind of took this as a way to get some exposure," Perkins said of the invite to the Night Market. "We like the food that we do and the guest service we bring."
Apparently, so did the Night Market attendees.
Dorchester resident Nicole Mitchell, 34, waited toward the back of a 50-person line for a peach-flavored bubble tea. She said she heard about the event on Facebook and dragged a friend along with her. Mitchell described the market as "interesting" and a great opportunity to try new and different foods.
Mitchell's foodie partner-in-crime, David Williams, 35, of Roxbury, had good things to say about the Japanese fried chicken and dumplings he tried.
"I'm in food service, so I know food," Williams said. "[This is] really, really good food."
One possible downside, however, Williams said, was the admissions price, which drew close to $70 for V.I.P. passes that included drink and game vouchers.
"To basically spend 70 bucks just to get in here, that was the only fault that I would say," Williams said. "[But there was] good food, nice mixture of different types of food, nice space [and] good lines."
Kwan said that the feedback they had received on Ho-Sik Group's flagship event was "really great."
"We definitely already have ideas about what we want to do next year and what we want to do going forward," he said.