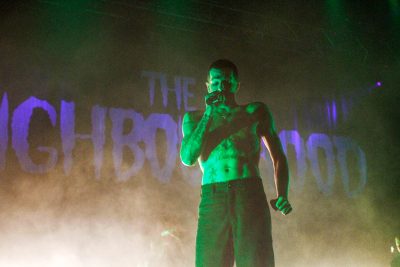 After six years of albums and EPs that slowly declined in popularity, alternative rock band The Neighbourhood released a self-titled album in March of this year, one that deviated from their old sound and into new and trendier territory.
To the diehard fans — or "hoodlums" — in the crowd at the House of Blues Tuesday night, some with album cover tattoos and others decked out in old tour merchandise emblazoned with "THE NBHD," the band's downward trajectory was clearly a moot point.
It could have been charming front man and vocalist Jesse Rutherford who read the mostly young, female crowd, or maybe the set list was already prepped with day-one fans in mind.
The band, crowded on the stage in baggy T-shirts and straight-leg pants, hair greasy and ears pierced, pounded out a 20-minute introduction that catered to their audience. That is, it was full of their oldest, most popular songs.
They started with "How," a slow-building, bass-heavy opening track from their 2013 album "I Love You." released almost a year before the band's successful catapult to Billboard's Top 100 with "Sweater Weather."
Without a breath between songs, they grooved through fan-favorites like "R.I.P. 2 My Youth" from their 2015 rhythm and blues-infused album "Wiped Out!," "Dust" from this year's "To Imagine" EP and their second-most streamed Spotify single and anxiety anthem, "Afraid."
Each song was connected by a consistent, underlying bass and drum beat — heart-pounding, intense and rendering even some of their most popular tracks nearly unrecognizable until Rutherford's vocals kicked in.  
The nuanced guitar intro to "Prey" was buried beneath the rolling, thrumming bass. It wasn't until Rutherford's familiar voice carried the melody through with the uneasy hook, "Something is off, I feel like prey, I feel like praying," that the song felt familiar.
With so little musical variety, the performance relied heavily on Rutherford's eccentric personality. While the rest of the band focused on channeling a rock concert vibe to their normally chill, indie-alternative sound, Rutherford made the stage his playground.
He swung in big, wild circles from the '50s style chrome microphone, suspended from the above-stage rigging. He sashayed from one end of the stage to the other, catching fan T-shirts as they catapulted onstage, spinning a leopard print bra around his wrist after catching it in mid-air.
Rutherford's energy captivated the audience. Under the hot glow of the stage lights, he stripped free of his long-sleeve shirt after just four songs, exposing a chest nearly black with tattoo ink and flexing provocatively as fans reached out to touch.
"Who cries like a baby? We'll do that first, then talk about our dads," Rutherford said to the crowd before launching into "Cry Baby," followed by their hugely popular song, "Daddy Issues."
While the opening tracks of the concert relied on Rutherford's vocals, it wasn't until the band embarked on their new music from "The Neighbourhood" that the skill and musical variety of the five-piece ensemble shone through.
On "Void," the first single from their new album, an edge of desperation took over Rutherford's voice as he crooned on the refrain: "I'll try just to do somethin' / I'll try 'cause I got nothin' / Else that gets me through the day / 'Til I find another way."
A similar, melancholic vibe, characteristic of their new album, carried through in performances of "Sadderdaze" and "Softcore." Lyrics such as "And every time I kiss you, baby / I can hear the sound of breaking down" combined with soft blue lights and Rutherford clutching at the mic stand like a life raft, eyes squeezed shut.  
Their latest release, "Ever Changing – EP," which came out Sept. 21, was largely absent from the night's setlist, with the exception of "Livin' in a Dream."  
On this indie-pop track, Rutherford took the opportunity to freestyle on the verse where Los Angeles rapper Nipsey Hussle fills in on the record. The song's intro, a funky "chipmunk soul" sample of Rutherford's voice, leads into a cool rap track that translated well to the stage.
After a brief and calamitous dive into the crowd, surfacing from the swarm as a pair of flailing Nike shoes, Rutherford ended the set on the final track of the band's self-titled album, "Stuck with Me."
The song, which starts slow with haunting vocals and builds into a high-energy sing-along is reminiscent of the songs that built The Neighbourhood's fan base.
While the band may have tried to break free from their chill stereotype with a loud, breathless rock intro, they eased back into familiar territory as the night unfolded.
With Rutherford's weird, yet electrifying energy at the helm of the ship, the concert sailed over its hipster crowd and proved that they had a handle on their sound, if not their ratings.