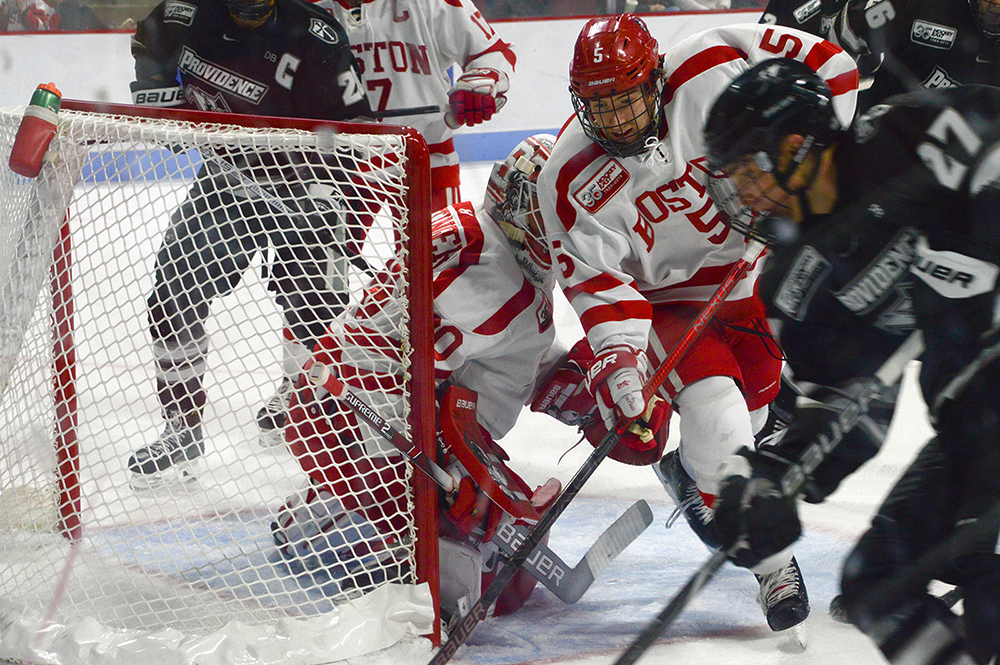 Coming off a one-point weekend against Boston College, the Boston University men's hockey team sets its sights on another in-state rival — University of Massachusetts Lowell.
Although the Terriers (4-7-2, 4-4-2 Hockey East) failed to record a victory against BC (4-6-2, 4-1-2 Hockey East), BU head coach Albie O'Connell did see some positives from his team.
"There was a lot [of positives]. We were able to generate a lot of chances," O'Connell said. "Especially that first night [with] how we played physically, coming out taking away a lot of ice. I thought our neutral zone game was better in both nights. … There's a lot of good takeaways. Obviously, the one thing we have to figure out is how to get the puck to slide by the goalie and get in the net."
Last season, the Terriers and the River Hawks (7-6-1, 3-3-1 Hockey East) split the series with the home team emerging victorious.
Then-freshman defenseman Cam Crotty recorded his first collegiate goal in the victory at Tsongas Arena on Dec. 9, 2017.
"[It] was pretty crazy, I guess," Crotty said. "Especially as a defenseman coming into college, it's not looked at to score goals, so when it happens it's really nice. It wasn't the prettiest of goals, I think it went off a foot and went it, but it counts all the same so it was pretty fun."
Last Saturday's 0-0 tie marked the first time since the 2015-16 season that BU has been shutout three times in one season. BU has not been shutout four times since the 2003-2004 season.
The Terriers have failed to reach the multi-goal mark in four of their previous five contests.
O'Connell noted that although his team is not scoring, it is not because they are passing up chances.
"I think we are shooting appropriately," O'Connell said. "I thought we went to the net pretty well. You know, it's just about finding a way to get the puck in the net."
This season, junior defenseman and co-captain Dante Fabbro is the sole player on the Terriers with at least 10 points this season. The New Westminster, British Columbia, native leads the squad with 12 points, with nine points in 10 conference games.
The struggling offense will be challenged by River Hawk goaltender Tyler Wall. Wall's 1.80 goals against average and his .933 save percentage are good for first and second in the conference, as well as eighth and ninth in the country respectively.
Against Hockey East opponents, Wall's goals against average is fourth (2.18), and his save percentage is sixth (.917) among the 11 qualied goaltenders.
Last season, Wall started in BU's 9-3 victory over UMass Lowell. He played 32:53 minutes and allowed six goals off 27 shots.
Senior goaltender Christoffer Hernberg spent last season at the main goal stopper for the River Hawks, however this season he has appeared in just four contests.
"Wall is a good goalie at Lowell," O'Connell said. "It's the one thing our league has is a good collection of goalies, especially this year. They got some veterans and some younger kids that have really had good years and have some bright futures."
Junior forward Ryan Lohin paces Lowell with 11 points. The Tampa Bay Lightning prospect is recording nearly two points per conference game this season, registering seven points in four games.
Terriers' junior goaltender and assistant captain Jake Oettinger will be tasked with slowing down the River Hawks offense which averages 2.79 (fourth in Hockey East) goals per contest.
During November, the Lakeville, Minnesota, native's .934 save percentage placed 14th in the nation and third in Hockey East while his 2.12 goals against average slotted him third in the conference.
Oettinger saw 258 shots and made 241 saves during November. He led the country in both of those categories.
"Every great team is built out from a strong goaltender," Crotty said. "Jake is an amazing goaltender and knowing that he's playing really well kind of just gives us confidence and I think that everyone in [the locker room] believes in him and that just kind of helps everyone's mindset going into games knowing that your goalie's back there to help you out."
This series will be the last for Crotty and sophomore forward Shane Bowers before they leave for Team Canada's International Ice Hockey Federation's 2018 World Junior Championship selection camp with hopes of making the final roster.
Being named to the preliminary roster is not lost on Cotty.
"It's crazy," Crotty said. "… It's something that you've been watching since you were three or four. Especially, being from Canada it's a huge, huge event, so even being in the conversation for that is pretty special. So whatever happens with it I'm going to soak everything in because it is a huge honor.