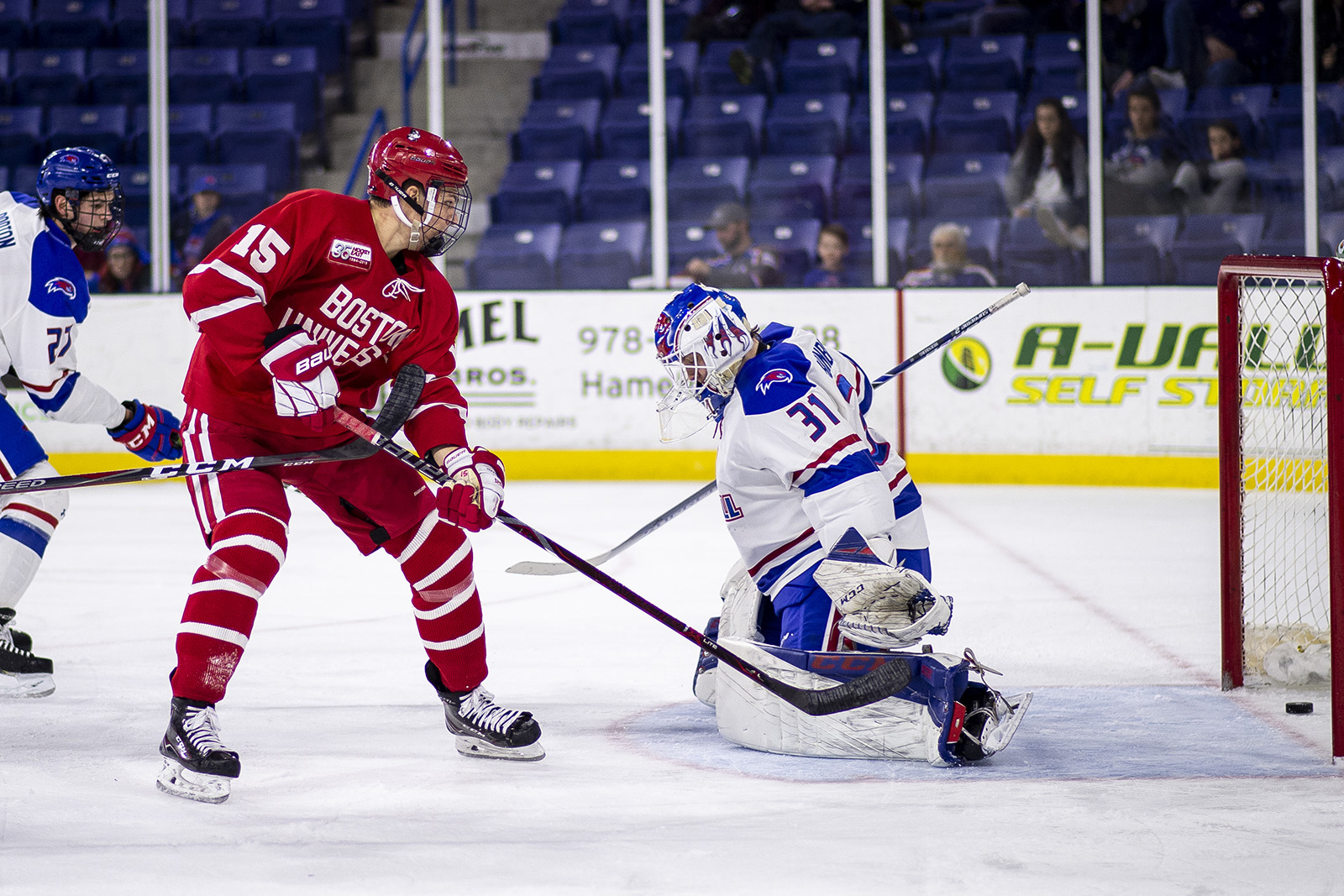 After being defeated on home ice Friday night, the Boston University men's hockey team traveled to Lowell for the second half of its home-and-home against the University of Massachusetts Lowell.
Unlike Friday, the Terriers (5-8-2, 5-5-2 Hockey East) overcame the River Hawks (8-7-1, 4-4-1 Hockey East) 5-2.
"I thought it was a gutsy road win," BU head coach Albie O'Connell said. "It was nice to see our players rewarded. When we had chances, we actually capitalized, so it was nice to see some pucks go into the net."
Saturday, the Terriers drew first blood.
Senior forward and co-captain Bobo Carpenter spun and fired a shot from the left circle that Lowell goaltender Tyler Wall could not stop, and BU gained a 1-0 lead at 10:03 in the first period. Sophomore defenseman Kasper Kotkansalo added a helper.
"Bobo, he brings it every game — he competes," O'Connell said. "He was a factor, [and] he played really intelligent. You can tell he's a senior out there with some of the plays he made, especially in the third period. … He's a good leader, and the goals that he scored were huge to get us going."
Exactly three minutes later, the Terries doubled the lead.
With both River Hawks defenseman Jon McDonald and BU forward Joel Farabee in their teams' respective penalty boxes, the teams engaged in four-on-four hockey.
Kotkansalo cleared the puck out of BU's zone, and sophomore forward Shane Bowers found the puck on his stick and fired a backhanded shot that beat Wall and put BU up 2-0.
Just under a minute later, the Terriers scored once more.
Junior forward Patrick Curry fired a shot that Wall stopped but did not control. Carpenter slotted the loose puck past Wall for his first multi-goal effort of the season and the Terriers' nation-leading fifth shorthanded goal of the season at 14:02 in the period.
However, the River Hawks did not head into the first intermission without a goal.
The third goal ended Wall's night. He was replaced by senior goaltender Christoffer Hernberg, who beat the Terriers last night.
Just five seconds after finding themselves in a 3-0 hole, Lowell scored on the power play.
River Hawks forward Charlie Levesque's shot beat junior goaltender and assistant captain Jake Oettinger and put Lowell on the scoreboard with just under six minutes to play in the opening period.
With the second period almost halfway played, the River Hawks found the back of the net.
Junior defenseman Mattias Goransson fired a slapshot from the left circle that Oettinger could not stop, and Lowell brought the game to within one goal at 10:42 in the period.
Senior forward Connor Wilson recorded an assist.
Just over five minutes into the third period, the Terries added to their lead.
With Lowell forward Reid Stefanson in the box for holding, Curry fired a wrap-around shot that hit the right post before going into the net for a power play goal — extending the Terriers' lead to 4-3 at 4:52 in the contest.
Despite scoring in different situations tonight, O'Connell said he was just happy his team scored goals.
"However they come, we're excited when the puck goes in the net," O'Connell said. "We've had a hard time scoring some goals so to get a bunch … We didn't have tons and tons of opportunities, but we capitalized, so it was nice to see the puck go in the net."
BU scored once more in the contest.
With just under three minutes left to play, Bowers put home a feed from Curry for his second goal of the contest and put the Terriers up 5-2 with 2:57 left in the game. Sophomore defenseman David Farrance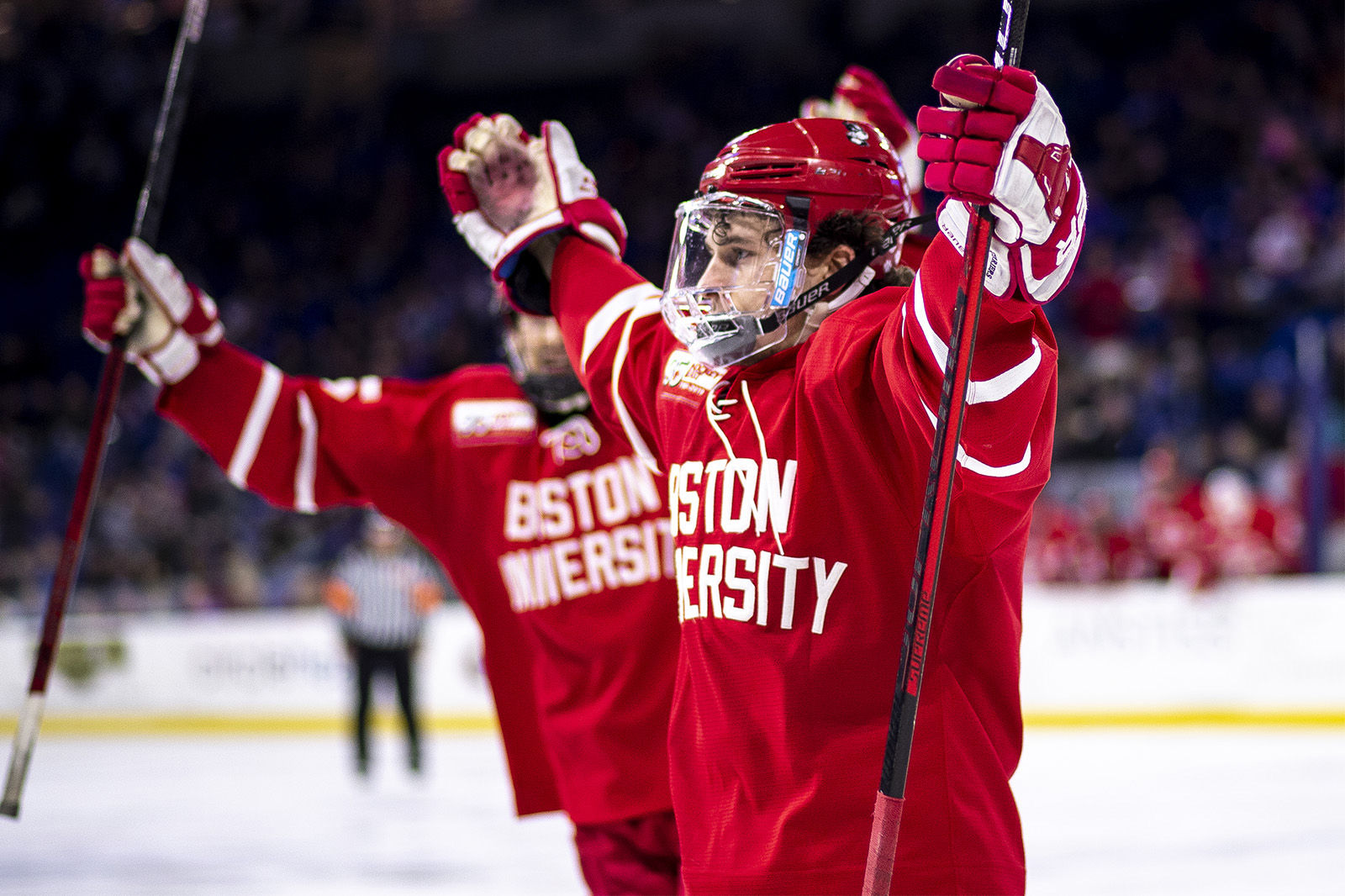 added an assist.
"Farrance made a stress pass to Curry, and I just had great patience on the wall," Bowers said. "… Curry saw me coming in late [and] made a great play, and I was able to slide it through [Hernberg's] legs."
Oettinger finished the contest with 40 saves, his second highest total this season.
"He wasn't perfect, but he competed his a-s off," O'Connell said. "When he was fighting for pucks, he was fighting through traffic, he let us settle in early. They had few chances early, and he let us get our feet under us, so he was rock solid."
Saturday marked the last game for Bowers and sophomore defenseman Cam Crotty before the duo leaves for Team Canada's select camp for the International Ice Hockey Federation's World Junior Championship.
Bowers noted how important arriving to camp with momentum is for him.
"Obviously, it's nice to go into camp Monday morning feeling good with a little bit of confidence," Bowers said. "But I'm confident with myself, and it was kind of just an added bonus, and it definitely feels good."