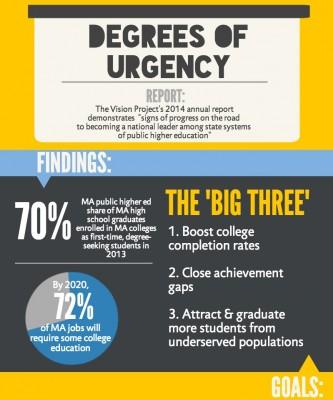 While efforts to raise graduation rates and close the achievement gap have improved, Massachusetts may see a decrease in skilled graduates joining the work force, according to a study by the Massachusetts Committee for Higher Public Education released Tuesday.
The study, "Why Massachusetts Needs More College Graduates Now," attributes the lack of skilled graduates to a decrease in high school graduation rates and low state funding for public education. It expands on efforts to boost completion rates, close the achievement gap and attract more students from underserved populations to maximize the number of people graduating with degrees.
Katy Abel, a spokeswoman from the Massachusetts Department of Higher Education, said the study focuses on public state colleges because they produce more graduates than private institutions.
"The legislature in Massachusetts convened a Higher Education Finance Committee to make recommendations for the public colleges and universities," she said. "Wake up, Massachusetts. Your public colleges and universities are becoming more important in meeting the workforce needs of the state, and for that reason, they need better funding."
Based on current degree production rates and future enrollment projections for 2025, Massachusetts' public higher education system will fail to meet the state's need for associate's and bachelor's degrees by a minimum of 55,000 to 65,000, according to the report.
"We lead the nation in the number of jobs that require a higher education," Abel said. "We need the number of people with degrees and looking for jobs to support that."
About 72 percent of Massachusetts jobs will require some form of college education by 2020, according to the study. With many of these positions in science, technology, engineering and mathematics, the study lays out additional plans to create more interest in these subjects by starting at the high school level and at an earlier age.
Abel said many students return to their home states due to the costs of living and paying off substantial student debts. The committee is working on an outreach strategy to encourage students to stay in Massachusetts.
"We lead the nation in the number of jobs that require a higher education. We need the number of people with degrees and looking for jobs to support that," Abel said.
Several professors said changes are necessary for college to be accessible to everyone.
Ezekiel Kimball, an education professor at the University of Massachusetts-Amherst, said ensuring that students can attend college means providing affordability.
"We have the need to make sure everyone has the chance to go to college [and] that includes making sure they have access to educational experiences and the college experience be affordable to everyone. It doesn't stop at graduation. We need to have the resources to help students find jobs and take on roles in making sure they are providing a platform to connect to the resources in the community."
Massachusetts Secretary of Education Matthew Malone said the majority of the higher education committee is on board to address and solve this problem.
"The Vision Project report provides state leaders with a road map that allows us to think and respond proactively to the issues in higher education we will face in the next decade," he said a Tuesday press release. 
Boston University students said they agree that there is a need for change, especially in the STEM fields.
"I think I would like to stay here after graduation, but it will really depend on the openings at the time," said Kari Weistein, a sophomore in the College of Communication. "But the state should do more outreach to high school students to make them interested in fields in math and science. We get scared way from those fields in high school. They are stigmatized as being too hard. That should change."