Massachusetts Gov. Charlie Baker filed legislation to institute statewide regulation for transportation network companies (TNC) such as Uber and Lyft to address numerous reports of safety concerns and gaps in insurance and regulation of these services, according to a Friday press release.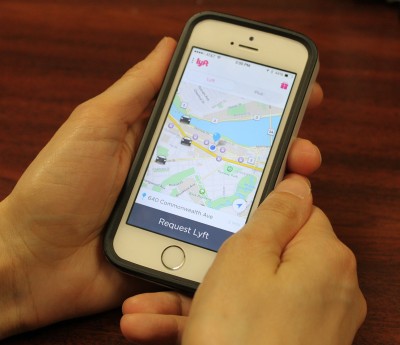 The bill's framework includes a modern regulatory system that will lay out clear and safe guidelines for TNCs to follow to ensure the safety of users as well as companies. This includes more comprehensive driver background checks as well as closing the insurance gaps for members, the release stated.
Criminal Offender Record Information will be required by each TNC. The companies must enforce drivers to receive certification from the state.
"The department of public utilities shall have access to all available criminal offender record information to determine the suitability of an applicant for a motor bus driver certificate," the bill stated.
The bill will allow room for TNCs to thrive through growth and innovation and aims to protect the safety of drivers equally to that of passengers, said Billy Pitman, a spokesman for Baker's office.
"These services use cutting edge technology," Pitman said. "We want to provide a baseline framework that gives them the latitude to operate and ensure they meet the safety standards for riders and drivers."
Transportation is a key part of developing technology and growth, Baker said in the release.
"Massachusetts has always been at the forefront of emerging technologies," he said. "A diverse transportation network is key to our future economic growth, and our collaboration will ensure customers have safe and reliable choices when they travel."
Another key component of the bill introduces $1 million of liability insurance coverage to drivers when they are responding to passengers or working through the applications. This is done to ensure driver insurance in the case of accidents and to further protect residents and visitors of Massachusetts, Pitman said.
Such legislation was developed through consultation with municipal leaders, company representatives and public safety advocates on behalf of the Commonwealth of Massachusetts, the release stated. The legislature has been collaborating with the Department of Public Utilities to adopt this framework as a way for the state and municipal companies to work together to support the innovation of these companies and continue to offer safe TNC services to people in Massachusetts.
The legislation does call for a phase-in period that allows for six months of a transitional period for TNC drivers to operate with private registration and insurance. This period will allow for services to continue running as usual until the framework, legislation and regulation can be finalized.
Uber asked constituents to sign a petition to vote yes in favor of signing the legislation.
Uber wrote in a Monday email sent to subscribers of the application that the legislation will "keep Uber in Massachusetts for the long term." Approximately 19,206 people have voted "yes" under Uber's petition as of approximately 11:30 p.m. on Monday.
Several residents said even with an overwhelming response already, they have hesitations about the bill.
Janee Johnson, 26, of Brighton, said she worries about what would come next if the government starts regulating these businesses.
"I don't really know about the specific bill all that much, but it's just a way for the governor to be in the pocket of the cab unions," she said. "It's too much control by the government and the unions. Voting for the legislation is one more step towards control over these independent companies like Uber and Lyft.
Brian Murphy, 25, of South Boston, said he sees the legislation as a positive reinforcement and welcomes the changes where rider safety is concerned.
"Anybody can be vulnerable when they get in those cabs, so getting some higher up involvement is beneficial and a good idea for the state," he said. "Of course, they should have regulations for the driver and the passengers. I don't see any negative effects to making it more universal."
Douglas Johnson, 29, of Dorchester, said the actions of Massachusetts legislators would greatly increase safety.
"It's better for them to be regulated a little more because I've heard some pretty bad things about these services," he said. "I heard a story about an Uber driver that broke into someone's house actually. And it's incidents like that that make me think they need regulation. The only people who would have problems with more regulation would be someone who wanted to take advantage of sketchy situations. The regulations would provide standards and make it safer."