NEW YORK — In a hectic Red Hot Hockey matchup between the No. 11 Boston University men's hockey team and No. 16 Cornell University on Saturday at Madison Square Garden, overtime ended with both teams deadlocked at 3-3. There was no overtime left to be played, and both teams would go home with a point for their efforts.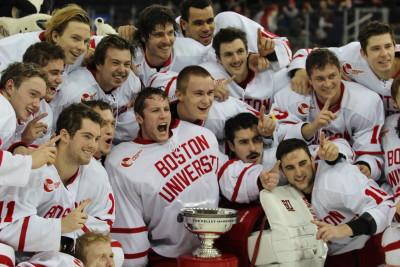 But there was just one question left to answer: Who gets the trophy?
As a result of the tie, the game counts in the overall standings for just one point, but as for the recipient of the hardware, it all came down to a shootout.
Thanks to conversions from senior forwards Ahti Oksanen, Danny O'Regan and Matt Lane, BU (7-4-3, 3-2-2 Hockey East) won the shootout, 3-2, to retain and take home the Kelley-Harkness Trophy over Cornell (6-1-2). The Terriers have not lost a Red Hot Hockey matchup since the tradition started in 2007.
"Certainly feels good to win the shootout," said BU head coach David Quinn, "and keep the trophy on Commonwealth Avenue."
Sophomore forward Nikolas Olsson had two assists in his first game back from injury. His linemate, sophomore forward A.J. Greer, recorded his first goal of the year and an assist. Freshman forward Jordan Greenway had a game-tying goal — and the first goal of his collegiate career — to push the game to overtime.
BU improved to 5-1-3 over its last nine games, including a 2-1-3 record against ranked opponents.
Cornell first jumped out to a 2-0 lead after the first two periods, but BU got to work in the third period, when freshman forward Bobo Carpenter snapped home a crisp setup from Greer at the 5:36 mark of the third period. The goal prevented Big Red goaltender Mitch Gillam from earning his third consecutive shutout.
Greer, just over three minutes after Carpenter's tally, scored a goal of his own to tie the game at two goals apiece, off a setup from Olsson.
Shortly after BU tied the game off Greer's goal, though, forward Holden Anderson brought the lead back to Cornell's side with his goal with 8:58 left to put the Big Red up 3-2. Greenway poked in the equalizer for BU with 3:55 remaining in regulation for his first goal of the season — and to eventually send the game to overtime.
Before BU's dominant third period — it outshot Cornell 16-6 in that frame — it struggled to get on the board early. The teams played to a scoreless first period, with one of BU's only close chances coming on a shot from Carpenter that rang off the post.
But early in the second period, after sophomore defenseman John MacLeod was sent to the box for a hitting-from-behind penalty 25 seconds into the frame, freshman Anthony Angello gave the Big Red a 1-0 lead when he redirected a shot from defenseman Patrick McCarron past BU goaltender Connor LaCouvee with just 13 seconds remaining on the power play.
Forward Trevor Yates extended the Cornell lead to 2-0 when he redirected in his own rebound past a sprawling LaCouvee.
Quinn said the scoreboard didn't reflect his team's effort in the second period.
"Early on, they [Cornell] were controlling the play," Quinn said. "…I thought we started getting our legs under us a little bit and started playing much better, playing the way we need to play if we're going to have success. And ironically, I thought we had a decent second period even though we were down 2-0."
LaCouvee gave up one more goal in the third period, but finished the game with 22 saves and two crucial stops in the shootout, including a final save against Cornell forward Matt Buckles to secure BU's trophy.
With the back-and-forth action of the game, there was plenty for Quinn to worry about, he said following the game.
"Great hockey game," Quinn said to open his postgame comments. "Entertaining, for sure. I had heart palpitations on the bench as that game continued."