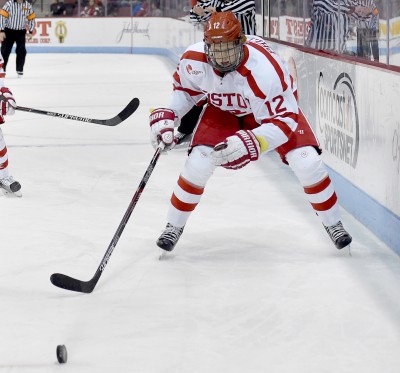 When the Boston University men's hockey team travels to St. Paul, Minnesota as the ninth overall seed in the NCAA Tournament, it will be the first trip to the state for the Terriers since postseason competition in 2012. But for one player, at least, things will be more familiar.
Sophomore forward Chase Phelps grew up in nearby Edina, about 25 minutes away from the Xcel Energy Center, where the Terriers will take on the University of Denver for the first round of the tournament on Saturday night.
"I played there when I was younger, and I've watched hundreds of [Minnesota] Wild games there," Phelps said, "and I'm excited to get out on that ice sheet and take care of business this weekend."
Phelps attended and played hockey at the prestigious Shattuck-St. Mary's School in Faribault, Minnesota before arriving at BU in the 2014-15 season.
"I'm excited to go play in front of a bunch of friends and family," he said. "It'll be good to get back and play in my home state, and I'm excited for the opportunity … I'm excited to play in front of them because they don't get the chance to come out to Boston too often, so it'll be nice to see them."
Of the 20 American players on BU's roster, just three reside outside of the East Coast — and Phelps is the only one from Minnesota. In fact, Phelps is the first Minnesota native to suit up for the Terriers since former captain Chris Connolly graduated in 2012.
Phelps said he's prepared to show his teammates around the Twin Cities and help them grow acquainted with the area.
"Oh, it'll be fun to show them where I grew up, my old stomping grounds," Phelps said. "… If we get the time, we'll go around St. Paul, around the city and stuff, and just kind of show them where I grew up."
This season, Phelps has spent the majority of his playing time on the fourth line, tallying three goals and two assists in 36 games this season. His best game of the year came in a conference matchup against the University of Massachusetts Amherst in which he had a goal and an assist. It was the first two-point game of his regular season career.
BU head coach David Quinn said that Phelps will be a crucial part of the team's playoff hopes in front of his hometown crowd.
"I'm sure it'll be fun for him," Quinn said. "Chase has really had a good second half for us, that [fourth] line has been good, that line's spent time in the offensive zone, they've chipped in offensively. We're going to need that again throughout the weekend. But it's always nice to go home."