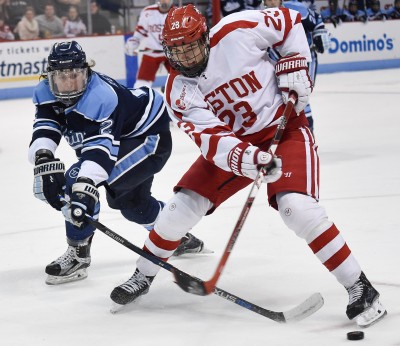 Following a 7-2 loss to the University of Denver in the first round of the NCAA Tournament on March 26, Boston University men's hockey head coach David Quinn told reporters in St. Paul, Minnesota: "It seems like our season ended at [the University of] Notre Dame. I don't know what happened to us mentally. We were playing good hockey, and we became a fragile group mentally."
Had BU won or tied in that game against Notre Dame on Feb. 27, it would have been guaranteed a top-four spot in the league standings and a first-round bye in the Hockey East Tournament. Instead, it ran into a spotless, 39-save shutout from Fighting Irish goaltender Cal Petersen and dropped into fifth place in the league, prompting a first-round appearance in the conference tournament.
Quinn, even three and a half weeks following the season-ending loss to Denver, still viewed that 1-0 loss in South Bend, Indiana as the singular moment where things stopped clicking for the Terriers mentally and where the issues "snowballed" as the season tumbled to its conclusion.
First, the issues snowballed into a lackluster first-round series against the last-place University of Massachusetts Amherst, about which Quinn said the Terriers didn't play well, but emerged with a sweep. Then came the University of Massachusetts Lowell, which swept BU and set the tone for the final loss in Minnesota.
"I think there's always the BU pride thing," Quinn said Thursday in an interview with The Daily Free Press. "You know, 'We're BU. We're not going to be playing in the first round.' And I think the devastation of not finishing in the top four — I felt we lost our swagger. I thought we lost our mental edge.
"I was stunned at the feeling after we lost to Notre Dame," Quinn added. "You're always disappointed, but I was really surprised at our reaction. It didn't feel good. No loss feels good, but this was a loss that felt worse than any of the losses we've had in a while. I think because of the ramifications, we just never got over it."
—
Considering how many questions the 2015-16 season began with and how many roadblocks the team hit along the way, Quinn said if the Terriers' 21-13-5 season "is our 'bad year,' we're going to do great things."
And entering the season with the bitterness of a loss in the 2015 national championship game still left in their mouths, questions existed. How would BU fare without Hobey Baker winner Jack Eichel, who left after his record-breaking freshman season to sign a contract with the Buffalo Sabres? Who would be the key to this team's success?
Before the season even began, an admissions issue over the summer lost BU a top recruit in Max Letunov, who instead enrolled at the University of Connecticut, where he posted 40 points.
Veteran and junior forward Nick Roberto was suspended for the entire season due to an NCAA investigation related to gambling activity. Senior captain Matt Grzelcyk, an All-American in 2015, missed the first six regular-season games while recovering from offseason knee surgery. Senior goaltender Sean Maguire, despite returning healthy after redshirting his junior year with a severe concussion, struggled early in the year to secure his spot in net, with sophomore Connor LaCouvee playing the majority of goalie minutes in the first half.
But roadblocks aside, there were plenty of impact results in the first half. The team drew Providence College, the defending national champions, on the road. BU came from behind to beat the University of Michigan, which also made the NCAA Tournament. The Terriers also won the Kelley-Harkness Trophy over Cornell University as a part of Red Hot Hockey.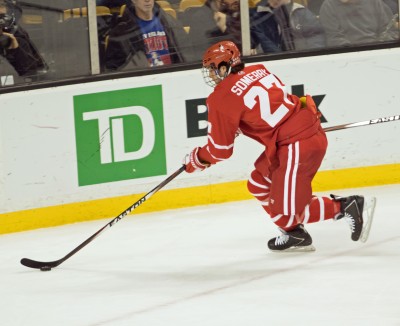 Quinn reiterated that his team had a more difficult schedule than any other team in college hockey — 21 of BU's 39 games came against teams that ended up in the NCAA Tournament. And there was the talent to stay competitive, too.
There was the sheer consistency of senior assistant captain Danny O'Regan, who finished his BU career with 154 points in 154 games, including 44 points in 39 games his senior season. O'Regan was named the team's most valuable player Sunday at the 53rd annual Friends of BU Hockey banquet and was also named a Second Team All-American.
Freshman forward Jakob Forsbacka Karlsson, who was named an assistant captain for 2016-17 at Sunday's banquet, turned in a 30-point performance in 2015-16 to earn All-Rookie Team honors. Junior defenseman Doyle Somerby, the 2016-17 captain, anchored the defense with 13 points and 77 blocked shots. Senior assistant captain Matt Lane's teammates voted him the "most improved player" for his 28-point year.
In a testament to BU's talent, the first semester ended with one of BU's best wins all season, knocking off an undefeated team in Quinnipiac University with a 4-1 win on Dec. 12, 2015, but the Terriers entered winter break with a nightmare scenario. In that game, second-leading scorer and senior forward Ahti Oksanen suffered a torn labrum and separated shoulder when he crashed directly into the boards.
—
As Oksanen's status remained uncertain over the course of winter break, things got more shaken up roster-wise during that timeframe. Sophomore forward A.J. Greer left BU for the Quebec Major Junior Hockey League after posting just one goal and four assists in 18 games for the Terriers. Freshmen Oskar Andrén and Erik Udahl were consequently brought in at the break as depth pieces.
When the season resumed, things began to look up. Grzelcyk, who dealt with another knee injury and missed six games leading into winter break, returned to the lineup for the entire second half. Oksanen opted to postpone surgery, and his linemate Lane also opted to play through a foot injury in the latter part of the year.
BU's second semester began with a 6-5 comeback win against Harvard University, which kicked off a stretch in January and February where BU lost just one game in nine contests.
But Quinn noted that neither Oksanen nor Lane were quite the same to end the year. After that Harvard game, Oksanen recorded just five more goals after scoring 10 previously. Lane, who sat at 16 points after that Harvard game, recorded just 12 more over the rest of the season.
BU was later dealt another blow when physical, tone-setting sophomore forward Nikolas Olsson, another assistant captain for 2016-17, missed the final 18 games of the year with a shoulder injury.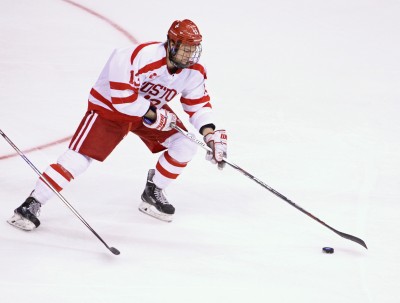 Luckily for BU, Maguire found his stride at a good time, anchoring a team that struggled on defense throughout the year — 30th in the nation with 2.72 goals allowed per game, despite being touted by national pundits as having one of the best defenses in the country prior to the season.
"I think human nature went wrong," Quinn said about BU's defense. "I think when you have a great freshman year, you come back with a little less urgency, your mindset changes, there's a comfortableness … I say this all the time: The name on the back of the jersey is the same, the guy in the uniform is completely different."
Maguire's best moment came via an MVP performance in the Beanpot Tournament, as he stopped 42 shots in the final against Boston College, including 23 in the first period.
But BU lost that Beanpot game in overtime, 1-0. The Terriers won just five of their final 12 games. Though Maguire suffered a broken finger in that final stretch, the team as a whole struggled to produce thorough performances, stumbling in a 6-3 loss at Lowell on Feb. 13, surrender-ing a late goal in a 3-3 tie to the University of New Hampshire on the road on Feb. 19 and post-ing the regular-season loss to Notre Dame on Feb. 27.
"There were a lot of good things from our team, and at the key time, we just weren't able to ride the wave," Quinn said. "It's a season of ebbs and flows and peaks and valleys, and unfortunately at the wrong time of the year, we hit the valley."
Quinn said he realized that the season ending "leaves such a bad taste in your mouth," but he also said he couldn't complain about the quality of victories throughout the year.
"The season ends, and we're tied for eighth in the PairWise," he said. "How bad was our season, you know what I mean?"