If you tuned in late to the No. 9 Boston University men's hockey team's game against Merrimack College on Friday night at Agganis Arena, you might have missed the part where senior goaltender Sean Maguire left the game for about six minutes in the first period.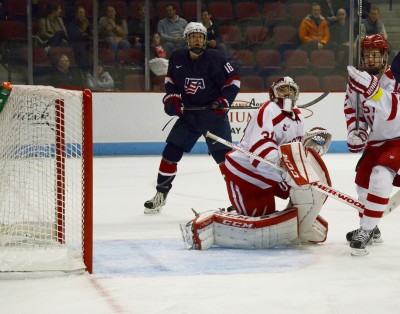 So if you happened to look at the box score after the game, you might've been surprised to see a "W" next to sophomore goaltender Connor LaCouvee's name.
See, junior forward Robbie Baillargeon scored BU's (14-7-4, 8-4-3 Hockey East) first goal of the game during the 5:49-long span in which Maguire retreated through the tunnel to fix his skate — the blade fell out of Maguire's skate just 1:17 into the game, and LaCouvee had to replace him while equipment staff remedied the situation.
Because Merrimack (7-14-5, 2-8-5 Hockey East) didn't score in the rest of the game, Baillargeon's goal stood as the game-winning goal. And since LaCouvee was playing when BU took the lead for good, he officially earned the win — even though he only earned one save in his first ice time since Dec. 11.
"I didn't really think about that until after the game," Baillargeon said. "Someone brought it up in the locker room, and it hit me then that my goal came at the time that Mags was getting his skate fixed.
"But I think that's pretty funny."
And, despite allowing no goals in the game, because neither goaltender played a full 60 minutes, neither was officially credited with the shutout.
Had BU head coach David Quinn ever seen a goalie earn a win with only one save before?
"Nope," he said with a smile. "We were actually joking about that after the game, I realized it when I was shaking everybody's hands."
Maguire ended the game with 27 saves in 54:11 of playing time. Nonetheless, Maguire lifted his season save percentage to .921 and .973 in his past eight games, and lowered his goals-against average to 2.33 on the year and 2.01 in his eight most recent appearances.
Since BU returned from its holiday break, the team has played to a 5-1-1 record — and holds a 6-1-1 record over its past eight games — and its goaltending has been a key part of the team's success.
"It's been solid since we got back from break, even before break it was strong," said sophomore defenseman Brien Diffley. "They just, Mags just picked it up where he left off against Quinnipiac and has been good ever since.
Quinn noted, however, that perhaps a bit of karma came into play in regard to LaCouvee.
He recalled a game against the University of New Hampshire on Feb. 14, 2015 in which LaCouvee entered in relief for former BU goaltender Matt O'Connor, who exited the game with the Terriers losing 3-0. LaCouvee immediately let in a goal to push UNH's lead to 4-0. BU came back within a score of 4-3, but because LaCouvee's goal was the difference-maker, he was officially credited with the loss.
"Connor got dealt a bad hand a couple of times last year," Quinn said. "…Those things have a way of working themselves out."