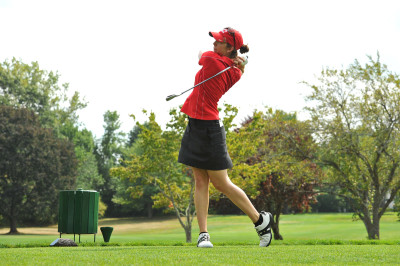 The Boston University men's and women's cross country teams had successful debuts this past weekend, opening their 2016 fall season on Saturday at the Nassaney Invitational.
For the men, freshman Paul Luevano led the Terriers to victory, crossing the finish line in 25:17 and claiming first place. The Los Angeles native was one of five BU runners to place in the top 10, including all four newcomers.
Freshman Brett Davidson also had a fine day, finishing third with a time of 25:51. He was followed by sophomore Johnny Kemps, who placed fifth in his Terrier debut with a time of 26:04. Freshman Greg Pelose followed Kemps in sixth place, finishing in 26:05.
Senior Ethan Homan finished in 10th place at 26:24, while classmate Cullin Burdett followed at 11th place with a time of 26:29. Sophomores Alexander Seal and Zachary Prescott rounded out the top 20 at 16th and 18th place, respectively.
The Terriers finished first out of all five teams, scoring 19 points. The second place team, the University of Rhode Island, finished with 64 points.
On the women's side, freshman Abigail Gugel, making her NCAA debut, led the way. Gugel finished in second place with a time of 18:19, and was followed by sophomore Courtney Breiner, who placed third with a time of 18:23.
BU finished in third place overall with 64 points, following the first-place URI, who finished with 61 points, and second-place Brown University, who claimed 62.
The Terriers, who were picked to finish third in the preseason Patriot League polls, received conference honors for both the men's and women's teams this week. Gugel and Luevano were recently honored as Patriot League Rookies of the Week on Tuesday.
Both teams will look to build on this success in their next meet at the New England Championships at Franklin Park in Boston on Oct. 8.
Golf opens fall season at William & Mary Invitational
The Boston University golf team opened its fall season this past weekend at the William and Mary Invitational in Williamsburg, Virginia. The Terriers finished in eighth place at the 54-hole tournament.
Freshman Zhangcheng Guo led the field in par-3 scoring at -1 for the weekend. The Beijing native competed individually, and finished the tournament with a three-day total of 225, tying for sixth place overall.
Junior Phyllis Tang finished in a tie for 11th in team scoring with a score of 227. Senior Adela Cejnarova finished in a tie for 16th place, leading BU and tying for second overall with 10 birdies.
Making their collegiate debuts, Abby Parsons and Saeros Oskarsdottir completed their first collegiate tournaments with a 241 and a round under 80, respectively. Sophomore Megan Carter scored a 248 after opening the first round with a 79.
The Terriers will continue their season at the Dartmouth Invitational in New Hampshire on the weekend of Sept. 24-25.