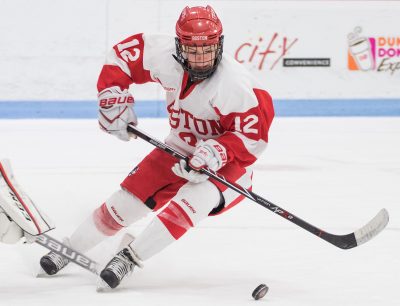 The Boston University women's hockey team is on a roll after defeating Harvard University and dominating its series against Princeton University this past week. The Terriers (10-5-1, 6-5 Hockey East) have won five straight games, two of which were close overtime victories.
"It's amazing how a long week certainly changes your outlook," BU head coach Brian Durocher said. "I felt like we were playing reasonably well, but not quite finishing jobs or keeping the extra puck out of the net. Certainly in the last week we've done a better job in a couple of those areas."
Tuesday night's matchup against Harvard (1-8) featured a strong performance by graduate student forward Mary Parker, who was playing against her former team in the Crimson.
Parker opened the scoring just over five minutes into the game, after a faceoff win from junior forward Victoria Bach was followed by a pass to junior forward Nina Rodgers. The three forwards would generate two more goals against the Crimson.
After junior forward Rebecca Leslie put BU up 3-1 at the 7:35 mark in the third frame, Harvard rallied, putting up two goals in the final four minutes of the game.
However, Bach was able to claim the victory in overtime on assists from Rogers and junior defenseman Savannah Newton. Newton collected three assists throughout the game for a career high, while Bach extended her point streak to six games.
Durocher had high praise for the Rodgers, Parker and Bach line.
"They've really had a great run here," Durocher said. "I think Mary and Victoria had wonderful contributions since the beginning of the year. The other thing that I see happening right now is that Nina is beginning to relax. She's getting her feet moving more, she's making some of the little plays and she's gotten some real grade-A chances."
The Terriers sustained their offensive dominance against the Tigers (5-6-1) on Friday and Saturday, sweeping the weekend series.
Senior goaltender Victoria Hanson shined in Friday night's game, making a career-high 41 saves and letting in only one goal.
"We keep talking about it and that kids know that there are enough games in hockey where we've got to find a way to give up two, one or maybe no goals," Durocher said. "The shutout last weekend against Merrimack [University], the single goal against Princeton and some big saves in between. [Hanson's] body of work up to this point has been pretty darn solid."
On Friday, senior forward Maddie Elia put the Terriers on the scoreboard first with her sixth goal of the season just 54 seconds after the opening faceoff. Senior forward Samantha Sutherland increased BU's lead to 2-0 after sophomore forward Sammy Davis was able to force a turnover in the neutral zone.
A power-play goal from the Tigers would make the score 2-1, but Rogers and Parker rallied back with a goal apiece, finalizing the 4-1 scoreline.
Rogers claimed a career-high three-point night and matched her career-high two assists from Tuesday night's game against Harvard.
This momentum continued into Saturday afternoon, as the Terriers topped Princeton thanks to Parker's goal just 37 seconds into overtime.
BU had a tougher time defending the Tigers, who held a 3-2 lead going into the third period.
In the final frame, freshman defenseman Abby Cook scored her first collegiate goal to tie the score at three. The Kelowna, British Columbia native's score sent the game into overtime, where Parker tallied her 15th on the season, capitalizing on a 2-on-1 opportunity with Bach.
Parker extended her point streak to nine games and is second in the country in goals, behind the University of Minnesota's Dani Cameranesi.
Durocher said he liked his team's mettle throughout the holiday week, and BU will look to make it six in a row when it next takes the ice on Friday at the University of Connecticut.
"Obviously you win a couple of games and in overtime, that's special," Durocher said. "Five minutes is not a whole lot of time to get a deciding goal, but we did that both nights and that's great stuff."