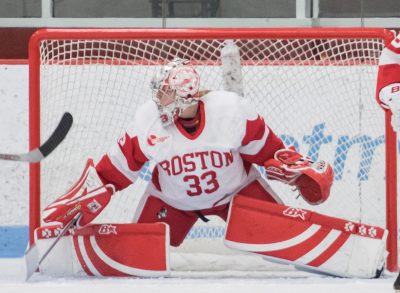 The Boston University women's hockey team has started this season with some ups and downs. The Terriers (3-3-1, 2-3 Hockey East) began the year with two straight victories, but now have lost three of their past five contests.
However, BU has shined in many aspects of its game, including its offensive depth. With the loss of eight seniors after last season, five of which were forwards, there was some uncertainty about whether or not the offensive production would be the same. This year's squad has risen to the occasion, with a combined 27 goals this season, ranked as the No. 1 scoring offense in the conference.
"It's a testament that there's still talent here," BU head coach Brian Durocher said. "We felt like we had players who were going to put up points. We've got five, six, seven, eight kids who can produce points, and there's some pretty talented kids on the back end. All those things gave us confidence that we can score and we have in the early part of the year."
In addition, the goals have come from nine different Terriers, and all but two players on the roster, aside from the goaltenders, have contributed to the 76 points accumulated.
Five Terriers rank in the top nine in point-scoring in the league, including senior forward Samantha Sutherland, whose 10 points on the season put her in a tie for fourth place.
Senior class making major contributions
Sutherland is not the only senior to contribute on the goal-scoring front, as a number of other players are making the most of their final season in scarlet and white.
Senior forward Maddie Elia has the third-highest goal count on the team with five, and is tied for third in assists with three. One of those goals includes a game-tying goal in the third period of the team's first game of the year at Pennsylvania State University on Oct. 14.
In goal, senior netminder Victoria Hanson has started four games this season, winning half. The two losses were narrow defeats for the Terriers, though. In the team's most recent contest against Northeastern University on Oct. 25, Hanson made a season-high 36 saves, and while she allowed four goals, she stemmed the tide and made it possible for BU to attempt a comeback.
"[The seniors] are getting on the scoreboard and producing points, but they're also doing a great job in the way of introducing the new kids to Boston University in the leadership they've been bringing every single day," Durocher said. "It's a long season and you've gotta have those people setting the bar for how things are at BU and how we do things. We're working as a group to make sure we have a good foundation of leadership."
Penalties remain a large factor in game outcomes
While many things are going right for BU, the one aspect that remains a sticking point game after game is the high penalty count and the effectiveness of special teams.
Currently the Terriers rank second in Hockey East with 100 penalty minutes behind Providence College. Their special teams net is currently +3, good for third place in conference behind Northeastern's +4 and Boston College's +13.
"We're doing pretty good by the number," Durocher said. "I think we're under 10 percent for the penalty kill and we're over 20 percent for the power play. We probably want to be just a whisker more consistent maybe on the power play."
Last week's rematch against the Huskies featured 12 BU penalties, 10 of which resulted in power-play opportunities for Northeastern (6-3-1, 2-1 Hockey East). While the Huskies only capitalized on one of those power plays, they were able to tally twice on BU power plays for a pair shorthanded goals.
Durocher expressed his concern about the number of penalties called, but acknowledged that regardless, the Terriers need to a better job of staying out of the box moving forward.
"As far as the penalties, it's something that the powers to be have decided it's something that they want to get back to 2004, 2005 when we stopped the hooking and impeding the highly-skilled offensive players from creating goals," Durocher said. "Unfortunately when you do that, especially at the beginning of the year, there's a fine line between enforcing the rules and keeping the game a little how it is."